Welsh Tory leader considers 'all' coalition options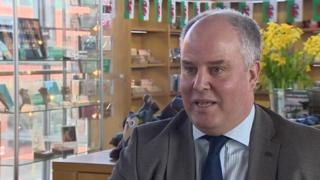 The leader of the Welsh Conservatives has suggested he could be willing to step aside to allow a future coalition with Plaid Cymru to happen.
Andrew RT Davies said it would be "very foolish" to rule anything in or out when discussing a deal to form a Welsh Government after the election in 2021.
The Tories currently have more assembly members than Plaid Cymru.
Asked if he would back a Plaid Cymru first minister, he said there were "lots of opportunities to explore".
"The important thing from a political point of view is that you can put a programme of government together that political parties can sign up to," he said.
"I believe there are a number of options to look at - nothing should be ruled in and nothing should be ruled out."
Although Plaid Cymru won more seats at the 2016 assembly election, the Conservatives are now the largest opposition group after being joined by ex-UKIP AM Mark Reckless while Plaid lost Lord Elis-Thomas and expelled Neil McEvoy.
Pressed on whether a coalition would be dependent on a change of Welsh Conservative leader, Mr Davies said: "I rule nothing in and nothing out because, at this very early stage in 2018 on that journey to 2021, the parameters we are working to is returning as many Conservatives back as possible.
"I'm not going to put personalities into this - what I'm saying is I'm open to working with other political parties across the political divide to create opportunities here in Wales."
Questioned about the dynamic between a Brexit-supporting Conservative leader and a Plaid Cymru staunch Remainer Mr Davies said he was removing nothing from the table.
Following the 2016 election, Plaid Cymru agreed to support a Welsh Labour government in a two-year deal to back the budgets in return for concessions.
Plaid leader Leanne Wood vowed never to go into coalition with the Tories or UKIP.
However, another senior Plaid AM, Rhun ap Iorwerth left the door open to an arrangement with the Conservatives, saying in January: "All kinds of relationships can develop between the most unlikely parties."