New schemes to help Welsh homebuyers launched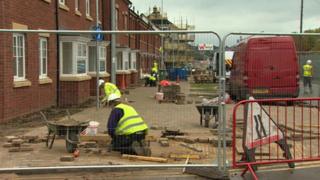 Two schemes designed to help more people buy homes in Wales will be launched by the Welsh Government on Wednesday.
Both schemes are aimed at buyers struggling to save the cash needed for a mortgage.
Rent-to-Own Wales will allow buyers to rent a home they can later purchase, with the rent subsidising a future mortgage deposit.
A shared ownership scheme is also being launched.
The Welsh Government will spend £70m on the two projects before 2021.
Rent-to-Own Wales will allow buyers to rent new-build homes from housing associations, allowing them to purchase it during the second year of the rental period.
A quarter of the rent paid, and 50% of any increase in value of the home, will be gifted to the buyer to use as a mortgage deposit.
Shared Ownership Wales will allow 25-75% of a housing association home to be bought by buyers unable to obtain the level of mortgage needed to buy a home outright.
Rent will be paid on the un-owned share.
Currently, three housing associations are participating, operating in Cardiff, Caerphilly, Neath Port Talbot and Ceredigion, with about 20 homes available through both schemes at launch.
Some 280 homes are in the pipeline, which the government hopes can be sold in the next year to 18 months.
It is hoped 1,000 homes can be made available through the schemes through the term of government, which ends in 2021.
Housing minister Rebecca Evans said: "These schemes will help people to get on the property ladder today; instead of spending years saving for a deposit they will spend those years living in their home."
The Liberal Democrats - whose only AM Kirsty Williams is a member of the government - had proposed a rent-to-own scheme in 2015.