Call for Wales to have women's prison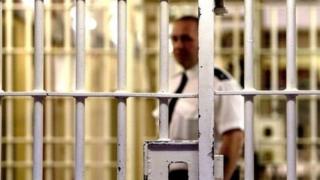 A female prison should be opened in Cardiff to allow women to serve time in Wales, a former chief inspector of prisons has said.
Currently women and category A prisoners can not serve sentences in Wales and are sent to England instead.
Lord Ramsbotham said it was "deplorable" there was no provision in Wales.
The Ministry of Justice (MoJ) said it was developing a strategy for female offenders.
There are currently five prisons in Wales - HMP Berwyn, HMP Cardiff, HMP Parc, HMP Swansea, and HMP Usk/Prescoed - which are all for men.
Lord Ramsbotham told BBC Wales' Sunday Supplement programme a women's centre should be opened in Cardiff to allow offenders to serve community and custodial sentences closer to home.
"There's no reason why they shouldn't have a small custodial element, because not many women are in prison for very long," said the peer, who was chief inspector of prisons from 1995-2001.
"There are admirable examples in Bristol and Manchester of women's centres, which could well be followed in Cardiff."
Last year, the head of the Howard League for Penal Reform said Wales was becoming a 21st Century "Botany Bay" over plans to open a new prison in Port Talbot.
Plans to build a Category C prison at Baglan Industrial Park have provoked anger among many people.
Lord Ramsbotham, who is against the opening of super prisons like HMP Berwyn in Wrexham, said Wales now needed a prison service designed specifically for its needs.
"I think that there is a maximum size of an organisation, and while I'm not against smaller units on the same site, I am against a monster," he said.
"The basic ingredient of all prison work is the relationship between staff and prisoners and the bigger you make a place, the more impersonal you make it."
A spokesman for the MoJ said it was investing £1m to support areas develop multi-agency approaches to female offenders between 2016 and 2020.
"We are also developing a strategy for female offenders to improve outcomes for women in the community and in custody," he said.