'Tension' with UKIP prompts office move by AM Mandy Jones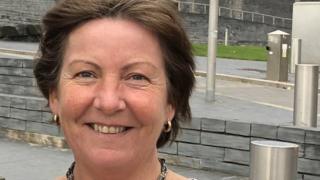 An assembly member is moving her office to another building after falling out with members of her own party.
Mandy Jones succeeded Nathan Gill as a North Wales AM in December but was not accepted into the UKIP group, which she later described as "toxic".
Her spokesperson said she was leaving the Ty Hywel office block for a former shop in the Senedd building "to help ease tension" after disagreement with UKIP group leader Neil Hamilton.
UKIP declined to comment.
Ms Jones has been sitting as an independent AM following a row with UKIP over her choice of staff.
The party claimed she had chosen to employ people who were members of other parties, or had recently campaigned for other parties, or both.
In January, Mr Hamilton said the people concerned had said "very unpleasant and insulting things" about him and other UKIP AMs.
A spokesperson for Ms Jones said: "I can confirm that Mandy Jones AM is moving offices after a request from Mandy to help ease tension after the public disagreement between her and Neil Hamilton."
The Assembly Commission said it "responds to members' requests for office accommodation changes in accordance with its statutory duty to ensure that the Assembly has the resources and support necessary to fulfil their responsibilities as elected representatives".