First Minister Carwyn Jones has no personal mobile phone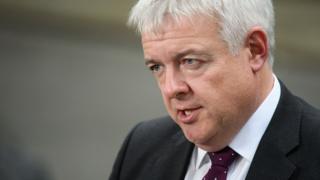 The First Minister of Wales Carwyn Jones has revealed that he does not own a personal mobile phone.
Welsh Conservatives said Mr Jones would be breaching the ministerial code if he conducted party business or personal matters on a government device.
But the Welsh Government said he was permitted to make non-government calls from his smart phone, which is encrypted to prevent hacking.
A spokesman said there was no extra cost to the tax-payer.
Welsh Conservative leader Andrew RT Davies asked Mr Jones, through the assembly's written question process, whether he had used a government-issued phone to communicate about Labour party matters with ministers, special advisers or Labour party officials.
He also asked whether he conducted government business from a personal phone.
In response, Mr Jones said: "I do not possess a personal mobile phone."
Mr Davies, in a letter to the first minister, said the answer did not respond to the question directly.
"It leaves the presumption that you conduct or have conducted Labour Party and/or personal business from a government-issued, taxpayer-funded phone".
"If you do conduct Labour Party and/or personal business using a government phone this would have serious consequence and would be contrary to various sections of the Welsh Government's ministerial code," he said.
He called for Mr Jones to refer the issue to his independent adviser on the ministerial code, James Hamilton.
In response, a Welsh Government spokesman said: "The first minister does not have a personal mobile phone.
"As first minister, he is provided with a government issued smart phone that is encrypted and securely configured to prevent hacking.
"The first minister is permitted to make non-Government calls from this smart phone and, due to the nature of the Government's mobile call contract tariff, there is no extra cost to the tax-payer."
A later statement from the Welsh Conservatives said the Welsh Government response was a "tacit admission that the First Minister breached the Ministerial Code on three separate counts".