Gove says Brexit Wales will have 'more farming powers'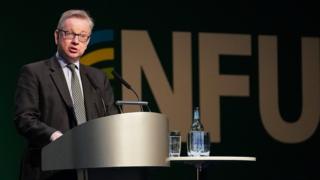 Wales will have "more powers than ever before" over farming and the environment after Brexit, the UK's Environment Secretary has said.
Michael Gove told the National Farmers' Union conference that the devolved administrations would be free to design policies that suit their own needs.
He rejected claims that EU powers would be retained in Westminster after Brexit.
It followed accusations from Welsh Government ministers of a "power grab".
But Mr Gove insisted at the Birmingham conference on Tuesday that it was "not the case at all".
In a wide-ranging address, Mr Gove said he wanted to see the "maximum level of devolution".
"Outside the EU, devolved administrations will have more powers than ever before to shape agricultural policies that suit their jurisdictions," he said.
"They will be free to devise methods of support that will suit farmers and consumers in their individual nations."
Farming and Brexit: Some other stories you might like
Watch: What's it worth to Wales?
A chance for a 'visionary food future'
Different sides of the Brexit farm gate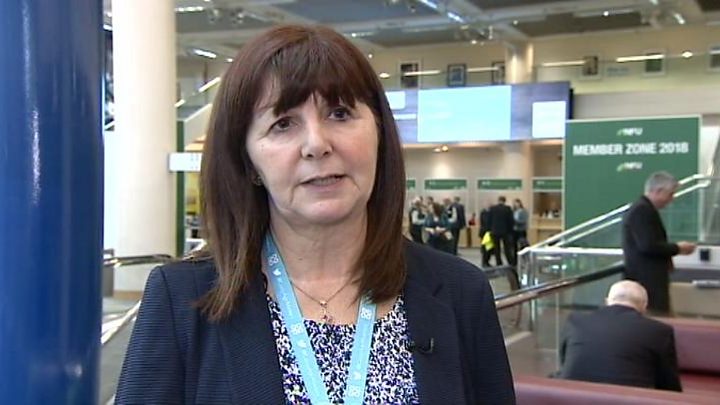 He insisted he was working with representatives from Wales, Scotland and Northern Ireland on UK-wide frameworks in "areas of common concern" such as animal and plant health, as well as making sure all farmers can continue to sell their goods freely within the UK's internal market.
Beyond that he said it was important the "unique circumstances of devolved nations are respected".
"The geography of Wales and Scotland is different, the nature of farming is different, the number of farmers working in less-favoured areas is different and the support required is of a different kind," he said.
"Specific decisions about the precise nature of how that money is spent and how that money is provided should properly be by the devolved administrations."
Welsh Rural Affairs Secretary Lesley Griffiths, who also addressed the conference, told BBC Wales after Mr Gove's speech that there remained major concerns around the EU Withdrawal Bill and it was vital to get answers on those issues.
She said: "The EU referendum was not a referendum on devolution... We want the powers that belong to the people of Wales from the start."
She added the most important thing was that there was still no clarity over how funding to support farming would be delivered to the Welsh Government in future.