Welsh Government should apologise to councils, minister suggests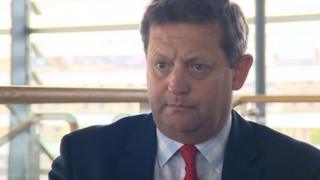 The Welsh Government should apologise to local councils for "hectoring" them in the past, the local government secretary has suggested.
Alun Davies says ministers needed to respect the pressures councillors face.
The Welsh Government has sought to reduce the number of councils in recent years, but plans to merge them were scrapped in 2016 after opposition from the sector.
Mr Davies became local government secretary last November.
The AM for Blaenau Gwent, who made the comments in a personal blog, also promised local authorities a "road map" to new powers.
He said: "Great efforts have been made recently to re-build and re-set the relationship and there is certainly a sense that things have improved significantly."
But he adds: "For me it is time that Welsh Government joined the debate over the future of local government with a degree of humility rather than an over-large helping of hubris."
"Too often in the past the tone from Welsh Government has been hectoring, arrogant and policy expressed in intemperate language with criticism that has been unwarranted and unjustified," he said.
"Perhaps it's time for the government to say sorry and to start again."
The local government secretary has written to Wales' 22 local government leaders, asking them for ideas for powers that could be given to the authorities.
Mr Davies says he will "publish a route map" for how the new powers could be delivered.
The minister recently stated that no-one in local government would argue 22 councils was the right number for how many councils there should be in Wales.
In his blog, Mr Davies said a speech last year by Welsh Local Government Association (WLGA) leader Debbie Wilcox helped him understand that "times are changing".
"As well as telling me that the inherited policy of mandated regional working wasn't a runner I was also told that the current shape and structure of local government is not sustainable," he said.
Ms Wilcox, a Newport Labour council leader, welcomed Mr Davies' comments. She said: "It is fair to say that the relationship between local and Welsh government in the past has sometimes been difficult.
"But through a mutual determination to work together in partnership, local and Welsh governments have managed to reset a relationship rooted in trust and respect for one another."
Plaid Cymru AM Simon Thomas said on Twitter that the blog had "interesting ideas", but added that it was "concerning to read between the lines how little [Welsh Government] acts as a unified cabinet".