Brexit: Cardiff leader presses Barnier for 'strong links' with EU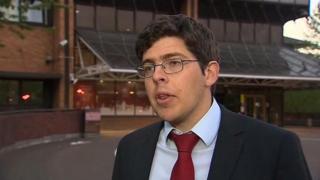 Cardiff needs to keep strong links with the EU after Brexit for the sake of its economy, the leader of the city's council has said.
Huw Thomas is one of 10 UK council leaders and mayors who met EU chief negotiator Michel Barnier on Monday.
He said sectors such as health and hospitality needed overseas workers, and the region had 3,000 EU students.
Mr Thomas added EU funding was worth six times as much over 20 years as the UK government's £1.2bn city deal.
The Cardiff council leader, who visited Brussels as part of a delegation from the Core Cities UK group, said he wanted "unfettered" access to the single market and customs union.
"Sixty one percent of the city's exports go to EU countries. We are among the top five British cities which are most reliant on EU markets," he said.
"Many Cardiff firms rely on workers from EU countries, particularly those in construction, retail, hospitality, health and social care."
Mr Thomas added that the numbers of EU students could be hit by any changes in fees, while the Cardiff Capital Region - the area covered by the so-called "city deal" - enjoyed around half of the £680m annual EU funding for Wales.
"If we are not to be left behind to wither on the vine then the UK government will have to find at least £330m a year for the Cardiff Capital Region alone," Mr Thomas said.
"Staying in the EU then is worth at least six city deals over the same 20-year period, if current funding levels are maintained.
"So it's clear to me - even after Brexit - Europe will continue to be a key market for businesses and organisations in Cardiff."
'Best for Britain'
A HM Treasury spokesman said: "The UK government is ensuring that projects continue and UK businesses and universities have the certainty they need to help us make success of EU exit.
"Our December 2017 agreement with the EU means Wales will continue to benefit from current 2014-2020 EU programmes until they complete, as we continue negotiating a deal that is best for Britain.
"In the longer term, the government is also committed to establishing a UK Shared Prosperity Fund to help deliver economic growth in all parts of the UK."