Lower growth post-Brexit suggests UK government study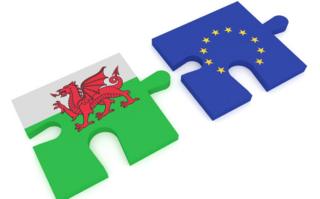 Official analysis suggests that after Brexit, Welsh economic growth would be lower than under current forecasts.
The assessment, by officials across Whitehall for the Department for Exiting the EU, considers three scenarios in the UK-EU negotiations.
It estimates Wales' economic growth would be 1.5%, 5.5% or 9.5% lower after 15 years outside the European Union.
UK ministers said all financial or economic forecasts related to Brexit had been proven "massively wrong".
The 1.5% reduction is based on Wales remaining in the EU's single market and customs union - which has been ruled out by the government.
The 5.5% fall in growth assumes a free trade deal is struck, but Britain leaves the single market.
And if Britain leaves the EU without a deal and moves on to World Trade Organisation rules then the reduction in economic growth would be 9.5%.
The UK-wide figures are -2%, -5% and -8%.
The worst-affected areas of the UK are predicted to be the north-east of England and the West Midlands.
Government impact assessment of Brexit deals on economic growth over 15 years
Government region
Single market
Free trade
No deal
East Midlands
-1.8%
-5%
-8.5%
Eastern
-1.8%
-5%
-8%
London
-1%
-2%
-3.5%
North-East
-3%
-11%
-16%
North-West
-2.5%
-8%
-12%
South-East
-1.5%
-4.5%
-7.5%
South-West
-1%
-2%
-5%
West Midlands
-2.5%
-8%
-13%
Yorkshire and Humber
-1.5%
-5%
-7%
Northern Ireland
-2.5%
-8%
-12%
Scotland
-2.5%
-6%
-9%
Wales
-1.5%
-5.5%
-9.5%
UK
-2%
-5%
-8%
The assessment was first leaked to the Buzzfeed website.
MPs voted to force the government to reveal the details of the assessment and they have now seen the analysis.
It does not suggest the economy would shrink, but would grow by less than expected.
Plaid Cymru MP Hywel Williams said: "Members of all parties should be uniting in the national interest to present the resounding case for Wales to remain in the single market and customs union," he said.
UKIP Wales leader Neil Hamilton said: "These are the same Whitehall mandarins who have comprehensively got economic projections wrong three months ahead, let alone 15 years."
Brexit Secretary David Davis said: "Every single financial or economic forecast related to Brexit has proven wrong so far, massively wrong - all on the same side, all underestimating the progress of the economy.
"[The] second point is that this is a work in progress. This is not a complete policy document.
"You wouldn't drive a car that is half finished. You shouldn't use a forecast that is half complete."