NHS Wales approves drug for incurable breast cancer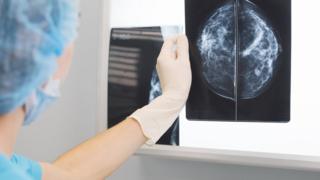 A life-extending drug for incurable breast cancer patients will be made available on the Welsh NHS.
Pertuzumab (Perjeta) is used to treat advanced inoperable breast cancer and in cases where the disease has spread to other parts of the body.
The drug has been approved for use by watchdog Nice.
Dr Catherine Bale, of Wales Cancer Network, said the drug could help up to 50 women a year.
"This is extremely welcome news for our ladies with advanced breast cancer who will now have the opportunity to benefit from this effective treatment which can both prolong life and maintain quality of life," she said.
The drug is already being used to treat patients in England under the Cancer Drugs Fund but in Scotland it was rejected due to not being cost-effective.
Following its approval, Welsh health boards have 60 days to make the drug available to patients under the Welsh Government's New Treatment Fund - set up to improve access to drugs.
Health Secretary Vaughan Gething said people with life-threatening conditions were getting faster access to the latest medicines under the scheme.