Jeremy Corbyn pressed on FM's by-election absence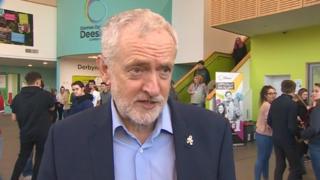 Carwyn Jones is "getting on with his job as first minister" Jeremy Corbyn said when he was asked about the Welsh Labour leader's absence from the campaign trail in Alyn and Deeside.
Mr Corbyn visited the seat to support Labour's by-election candidate, Jack Sargeant, who is running to succeed his late father Carl as the local AM.
Carl Sargeant was found dead after apparently taking his own life.
It was four days after Mr Jones sacked him from his cabinet last November.
He had denied allegations of improper conduct towards women.
Asked if he thought Mr Jones should come to the seat before polling day, as other Labour AMs including Welsh Government ministers had done, Mr Corbyn told BBC Wales: "Carwyn is getting on with his job as first minister.
"I've a good relationship with the Welsh Government and the Welsh cabinet and I'm here today supporting Jack. I'm delighted to be here."
Mr Corbyn said he was "very supportive of what the Welsh Government has achieved in housing and health and in education, and we are taking that message to the doorstep".
Mr Sargeant did not take part in a BBC Wales TV hustings with other candidates last night.
Mr Corbyn - who criticised Theresa May for not participating in leaders' debates last year - said Mr Sargeant was "out door-knocking and he was out talking to people".
The by-election takes place on 6 February.
Also standing are Carrie Harper from Plaid Cymru, Conservative Sarah Atherton, Green Party candidate Duncan Rees and Liberal Democrat Donna Lalek.