Creeping privatisation of dialysis services, warns Plaid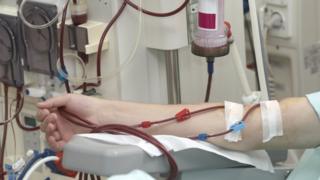 "Privatisation" of north Wales dialysis services risks cutting corners for kidney patients, Plaid Cymru has said.
Betsi Cadwaladr health board's plans to upgrade facilities in Wrexham could involve nursing staff being employed by a private company rather than the NHS.
In this week's First Minister's Questions, Carwyn Jones rejected Plaid's claim this amounted to "creeping privatisation".
Plaid says keeping the nurses employed by the NHS would cost £700,000 more.
In the Senedd, on Tuesday, the party's health spokesperson Rhun ap Iorwerth said outsourcing a core NHS service amounted to privatisation.
But Mr Jones said "the facts as he put it, I cannot agree with".
Mr ap Iorwerth said: "Either the first minister is misleading the assembly by claiming 'we are completely against privatisation' or he is oblivious to what is happening in the Welsh NHS on his watch - both deeply troubling scenarios."
On Thursday, the Welsh Government said: "Healthcare for the people of Wales is comprehensive, universal and free at the point of access; we will not be privatising the NHS."
Earlier this month Labour leader Jeremy Corbyn said the collapse of Carillion exposed the "outsourcing racket".
He told the House of Commons: "We will rewrite the rules to give the public back control of their services".
Dr Evan Moore, executive medical director at Betsi Cadwaladr University Health Board, said: "The aim is to make sure patients continue to receive high-class renal services with up-to-date equipment in suitable and safe accommodation, regardless of who the provider is."
The procurement process is anticipated to be completed by early February 2018.
At the same time, the contract with the current independent provider that supplies dialysis services in the Bangor unit at Ysbyty Gwynedd and the satellite unit in Alltwen is due to be re-commissioned.