Alyn and Deeside by-election: TV debate on Brexit and NHS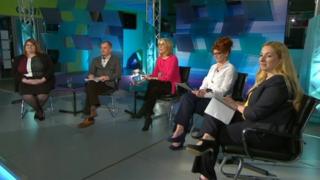 Four of the five candidates in the Alyn and Deeside assembly by-election have clashed over how to improve the NHS and whether the public should have another say on Brexit, in a live BBC TV debate.
Labour's Jack Sargeant did not take part in the programme with the Conservative, Liberal Democrat, Plaid Cymru and Green candidates.
The BBC Wales Live hustings was broadcast from Connah's Quay.
Polling booths in the constituency will open on 6 February.
The by-election was called after the death of Mr Sargeant's father, former Welsh Government minister Carl Sargeant.
On the funding challenges facing health and social care services, Liberal Democrat Donna Lalek said her party's immediate answer was to "put a penny in the pound on income tax".
"Nobody likes paying taxes, I know I certainly don't but something needs to be done and it needs to be done now," she said.
"For somebody with depression in Alyn and Deeside it can be up to a year's wait for treatment. That's completely unacceptable."
Plaid Cymru candidate Carrie Harper said asking people to pay more tax was an option.
She said: "I think if you were looking to ring-fence for the NHS and social services I think that's something that we'd have to seriously consider and I'd be happy to look at that."
Ms Harper said the NHS was being "badly managed" in north Wales with the local health board in special measures and under the "direct control of the Welsh Labour government".
She said shortages of doctors and nurses could be addressed by opening a medical school locally "because we know that where people train is where they tend to stay and work".
For the Greens, Duncan Rees said more needed to be done on the "harmonising" of health and social care and it was important that "people receive proper social care when they go home and they're not filling up hospital beds".
He also said that Wales "was moving towards a situation where the Welsh government would have tax raising powers" and the Greens would be prepared to put up taxes "if people wanted a better health service".
"It's a consideration," Sarah Atherton said when she was asked about the same topic.
The former nurse called for a "root and branch review" of NHS management and leadership, claiming there was a "lot of waste".
The candidates were asked by a member of the audience if the public should be given a second say on leaving the EU. Ms Lalek said they should, calling for a new vote on the final Brexit deal negotiated with Brussels.
"We're now starting to get a flavour of jobs being at risk, prices going up," she said. "We've got to put the terms to the people."
Mr Rees agreed, saying: "The country was split very much down the middle. One side won, but not by a huge majority.
"Parliament should certainly have a vote on the eventual deal which is being proposed, and that the British people should also have a vote on that deal when it is announced."
But the idea of a second referendum was rejected by Ms Atherton, who said her party was "resolved to upholding the democratic will of the people".
Prime Minister Theresa May "wants the best Brexit that she can get for the people of this country", she said.
Ms Harper said a second vote is an "interesting idea", but not her party's focus.
"If you look to a Norway-style solution you can have the benefits from the single market and the customs union," she said.
"People voted to leave the EU but they didn't vote to leave jobs."
'Mudslinging'
Jack Sargeant, who declined to take part, said in a statement released last week: "My principle focus is, and will continue to be, speaking to the people of Alyn and Deeside.
"I believe the best way to do this is to spend my time getting out into the community and speaking to voters directly, rather than participating in choreographed events that all too often descend into the kind of partisan mudslinging that only serves to alienate voters."
At the 2016 assembly election Labour retained the seat with 45.7% of the vote and a majority of 5,364.