Swansea tidal lagoon: Jones urged to explain offer to MPs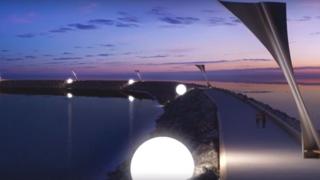 Carwyn Jones has been criticised for not giving evidence to MPs about Welsh ministers' offer to help with the costs of a proposed Swansea Bay tidal lagoon.
Welsh Affairs Committee chairman David Davies said the first minister was asked to give evidence to the committee "to spell out exactly" the offer.
The Welsh Government support is said to be worth more than £100m.
But Mr Jones said he will not appear until the UK government confirms its backing for the project.
In January 2017, a UK government-commissioned review of tidal lagoons recommended the project should go ahead.
But UK ministers have yet to give their approval, citing concern about the cost to taxpayers of the subsidy required for the energy produced.
During Welsh Questions in the Commons on Wednesday, Monmouth Conservative MP Mr Davies said: "If there's a serious offer from Welsh Labour to support tidal lagoons the Welsh first minister should reconsider, come before the committee and tells us exactly what it is that he is offering."
Mr Jones has said that Welsh Government support - said to be worth more than £100m - depended on the UK government's commitment to the project.
In a letter to Mr Davies, he wrote: "Given our support is conditional on support from the UK government I think it would be more timely to wait until the UK government has confirmed its support for the tidal lagoon.
"At the moment I have little to add to what I have already said but once the UK government support has been confirmed I would be happy to attend the committee."
Replying to Mr Davies's question, Welsh Secretary Alun Cairns confirmed that officials from the Wales Office, Welsh Government and the UK government's department for Business, Energy and Industrial Strategy met in Cardiff last Friday to discuss the offer.
He suggested Mr Jones should agree to the invitation to appear before the committee.
"I would have thought that is something that the first minister [would] respond positively [to] if he wants to be seen to be doing everything and do everything in order to make this project come about and prove the value-for-money case that we are seeking to achieve."
Shadow Welsh Secretary Christina Rees told the Commons that thousands of skilled jobs in Wales and England were earmarked to supply the lagoon but were at risk "because the UK government can't make a decision".
Mr Cairns told her: "This is something I really would like to happen. We'd like to see progress on this but clearly it must be value-for-money.
"You need to look at the jobs that will be created in the long-term and not those thousands of jobs you talked about because the project itself would deliver 40 or more jobs."