NHS board apologises to AM Adam Price in 'dirt' row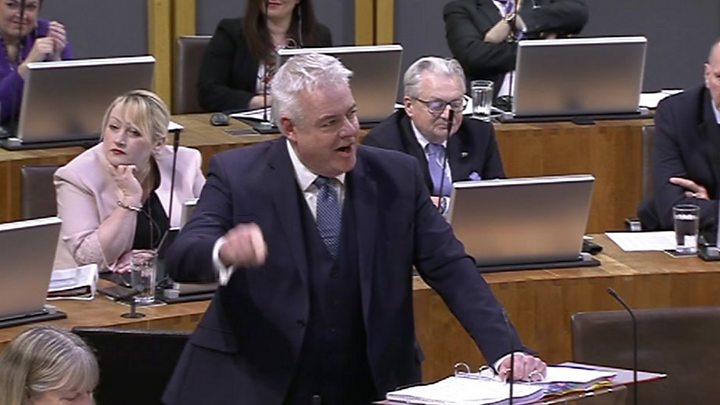 A health board has said sorry to a Plaid Cymru AM for releasing inaccurate information about his attempts to discuss its hospital shake-up plans.
First Minister Carwyn Jones told the Senedd on Tuesday that Adam Price had ignored two requests to engage with Hywel Dda, which serves west Wales.
Mr Price had accused Mr Jones of using civil servants to dig up "dirt" on him.
A spokesman said Mr Jones demanded "a full explanation" from Hywel Dda and would correct the record "accordingly".
The Welsh Government said it had obtained the information, used by Mr Jones in First Minister's Questions, from the health board.
Presiding Officer Elin Jones had to call the chamber to order as the exchange led to uproar between Mr Jones and Plaid AMs.
But on Wednesday the board said it missed Mr Price's request earlier in January for a meeting.
Health board chief executive Steve Moore added: "Adam Price and the wider Plaid Cymru group, as well as other public representatives in our area, have been active participants in discussions about our services and I would not wish the impression to be otherwise."
Mr Price had accused Mr Jones of breaching data protection law.
He said that the first minister, in his comments in the Senedd, also overlooked the Carmarthen East and Dinefwr AM's attempts to arrange a meeting with the chief executive.
Analysis by Nick Servini, BBC Wales political editor
A number of Labour sources at the Senedd already feel the line of attack from the first minister was ill-advised and unnecessary.
This apology from the health board will confirm that view even more, and will do nothing to raise the decibel level among Labour benches in the chamber that have gone quiet of late.
Carwyn Jones has been trying to get on the front foot politically after months of criticism, and this latest ploy has backfired.
Despite criticism, the Welsh Government had insisted it was justified in using information from the health board, that will now be called into question when the central accusation has fallen down.
The first minister's statement has fallen short of saying sorry but he is preparing to make a statement to the assembly next week correcting some facts which will be the last thing he will want to do.
A spokesman for Hywel Dda said: "We have apologised to Adam Price AM that there was an inaccuracy in our briefing to Welsh Government, specifically a request we received from him in January 2018 to meet for a general update and to discuss a constituency issue, which we missed."
The board said the information was provided following a request made by "officials from the Health and Social Services Group at the Welsh Government".
Following the statement from the health board, a spokesman for the first minister said: "If Hywel Dda have provided incorrect information that is obviously regrettable and they are right to apologise.
"The first minister has demanded a full explanation from the health board and, once received, he will be happy to correct the record accordingly."
'Cheap political stunt'
Mr Price demanded an apology from Mr Jones, saying: "An attempt at a cheap political stunt has backfired spectacularly.
"The first minister now needs to publicly acknowledge that the comments he made to the assembly were factually incorrect.
"Furthermore, he must correct the false allegations made in the chamber by acknowledging my willingness and endeavours to engage with the health board - something the health board itself has recognised in its statement."
The Welsh Government had said the information was not sensitive or protected, and said the public had a right to know whether the Plaid Cymru AM was engaging properly with the board.
Earlier, Mr Price told BBC Radio Wales: "Why did they ask for it about me? Because I had a question down and they wanted some dirt on me that they could use in the chamber.
"That is not a legitimate use of civil servants' time. That is actually against the civil service code."