Call for 'unfair' new-build leasehold ban in Wales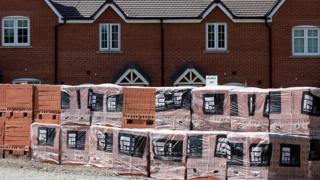 "Medieval" leasehold contracts for homes in Wales are unfair and should be outlawed in Wales, an AM has said.
Mick Antoniw said it made no sense that leaseholders, who can face "spiralling" ground rents, do not own the ground their homes stand on.
AMs from all assembly parties backed the calls following a debate in the Senedd on Wednesday.
The Welsh Government said it would work with house builders to put an end to new-build homes being sold.
The UK government has already announced plans to ban leaseholds for new-build houses in England, although the proposals have been described as "weak". The practice is already banned in Scotland.
While the owner of a freehold owns a property outright, including the land it is built on, leaseholders own a property for a length of time and do not own the land.
They have to pay ground rent, that can double every decade which can cause problems when it comes to selling the property.
Mr Antoniw estimated there are 200,000 leasehold properties in Wales, with more being built in recent years.
"Leasehold is something from the past, something from medieval years," said Mr Antoniw, Labour AM for Pontypridd.
He said the contracts were a way of "exploiting people who need to own a house, squeezing more money out of them", adding it was "a scourge on house ownership".
A majority of AMs backed Mr Antoniw's calls for a ban on Wednesday - 34 AMs voted in favour, one voted against and there were 14 abstentions.
The vote was not binding on the Welsh Government but serves as an expression of AMs' views.
A Welsh Government spokeswoman said: "This will be an interesting debate but it is important to note that leasehold is a valid tenure for some types of modern home such as flats and apartments.
"We are however concerned that bad practice exists in Wales," she added.