Carl Sargeant sacking: Twitter 'not evidence' of leak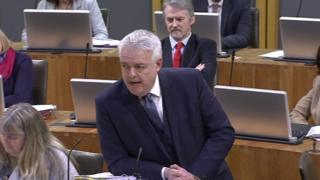 First Minister Carwyn Jones has denounced Twitter as "innuendo" and "tittle-tattle" as he defended a refusal to publish details of a leak inquiry following a cabinet reshuffle.
The inquiry found no evidence of any unauthorised leak before the shake-up, in which Carl Sargeant was sacked.
But Welsh Conservative leader Andrew RT Davies claimed there were examples on Twitter of people who knew in advance.
Mr Jones said: "Twitter is not evidence - Twitter is gossip".
Mr Sargeant lost his job as communities secretary in the reshuffle in November, amid allegations of inappropriate conduct towards women. He was found dead four days later.
The Conservatives have asked for the inquiry's full report to be published, and questioned whether there had been any authorised leak of information.
Mr Davies said in First Minister's Questions on Tuesday: "It is difficult for me, and other members and other interested parties, to have confidence in reports that we are prevented from seeing."
Mr Jones said the inquiry, which was led by the Welsh Government's most senior civil servant - permanent secretary Dame Shan Morgan - had now finished.
"The fact that it does not sit with the strange conspiracy theories of some people I am afraid cannot be helped," he said.
"But unless there is evidence that members have that somehow the head of security of the Welsh Government was compromised, that the permanent secretary was compromised, the inquiry has reported and the inquiry is clear in terms of the result of that inquiry."
The Welsh Conservative leader went on to say that details could have been published while at the same time protecting the identity of those who took part in the investigation.
The first minister added: "People came forward to give evidence to this leak inquiry on the basis of confidentiality.
"What he is asking the permanent secretary to do, because it's her decision, is to 'out' those people, for the evidence to be made available and their names.
"Such a course, I have to say, would be dishonourable and dishonest, and would bring the Welsh Government into disrepute.
"There are other inquiries that are ongoing. It is hugely important that people feel able to come forward to give evidence to those inquiries."
Paul Bowen QC will chair an inquiry into Mr Jones's handling of his dismissal of Mr Sargeant, while former Irish special prosecutor James Hamilton will consider claims that the first minister misled the assembly when answering questions about alleged bullying within the Welsh Government.