Carwyn Jones accused of breaching data protection laws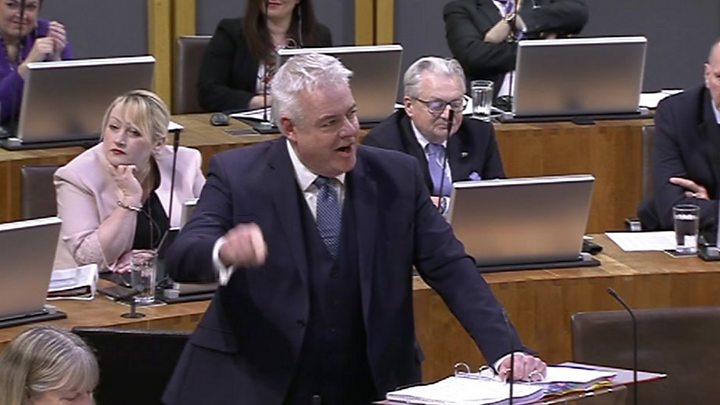 First Minister Carwyn Jones has been accused of breaching data protection laws after revealing details of attempts by local health bosses to set up a meeting with an opposition AM.
Plaid Cymru's Adam Price had asked about plans by the Hywel Dda board to revamp hospital services in west Wales.
Mr Jones was accused of behaving like "Putin's Russia" by listing attempts by the board to contact Mr Price.
The Welsh Government said it was told of these attempts by the board itself.
Plaid AMs had accused Mr Jones of improperly using data in assembly proceedings after he detailed contacts, including e-mails and a telephone call, the health board had with Mr Price.
Legal advice is now being taken by Plaid Cymru, with Mr Price accusing the first minister of giving "factually incorrect" information and misleading the chamber.
Mr Price disputed the claim he had not responded to requests for meetings with the health board, saying he had emails to prove he had.
The health board said it shared information about its communication with local politicians after a request from Welsh Government officials.
'Listen and learn'
During First Minister's Questions on Tuesday, Mr Price asked whether Welsh Language Minister Eluned Morgan - a Labour AM who represents Mid and West Wales - would be censured for posting on social media her opposition to any hospital closures.
Carmarthen East and Dinefwr AM Mr Price said there should be a vote in the Senedd on any changes.
Mr Jones told him he should "listen and learn", before listing attempts in December and January by Hywel Dda Health Board to contact the AM.
"He's good at grandstanding in this place without doing the work on behalf of his constituents," the first minister said.
The presiding officer had to call for order as Mr Price was heard to shout: "What is this? Putin's Russia?
"Goodness gracious me... you're using privileged information against a member," Mr Price said to the first minister, adding: "Shame on you."
Presiding Officer Elin Jones said: "The local health board probably has information regarding whether I answered e-mails or phone calls to them as well.
"I wouldn't personally want that shared in this place."
Plaid AM Rhun ap Iorwerth later raised a point of order, suggesting the first minister's actions were a breach of the Data Protection Act.
In response, Mr Jones said a statement was sent out by Mr Price which had said he would be keeping a close eye on the proposals and would be attending a meeting with the health board at the "earliest opportunity".
Mr Jones said: "If members say they want to meet at the earliest opportunity, it is important that there is an understanding amongst the public that opportunities have been offered."
Mr Price tweeted later: "So @fmwales who stands accused of bullying and intimidation chooses to release privately held data the Government holds in relation to me from a public health board in order to attack me.
"This is unprecedented and, prima facie, a criminal breach of the Data Protection Act."
A spokesperson for the health board said: "Following a request from Welsh Government Health officials, Hywel Dda UHB considers it was reasonable in the circumstances to share information about its communication with local politicians relating to engagement activities around the TCS Programme - this did not include the content of any discussions."
A spokesman for the First Minister said: "No sensitive or protected information has been requested, shared or leaked.
"In response to public criticisms from Mr Price, the local health board has, quite properly, made it known that he has not responded to any of their invitations to discuss this matter.
"This is rank hypocrisy, and Mr Price's anger stems only from the fact that he has been exposed as a hypocrite."
---
Analysis by Nick Servini, BBC Wales political editor
There is often an edge to exchanges between Carwyn Jones and Adam Price in the chamber, but this took things to another level.
I cannot recall such a raucous exchange which - a bit like a drunken row in the pub -- took a long time to bring under control once it got into full flight.
Adam Price had made a few sniping remarks about the Welsh Government's response to the Hywel Dda proposals which were not unexpected.
The first minister responded with a personal attack on the Carmarthen East and Dinefwr AM which felt heavy handed in the context of the debate.
His spokesman says this was not private information and that Adam Price got what he deserved because the Plaid AM had been critical of the health board's consultation.
The Welsh Government says this was not private information, anyone could have obtained it. That will be a tough sell because it is asking people to believe that officials were treated in the same way as anyone else when they phoned up a health board asking for information.