Welsh Conservative leader dismisses Brexit growth paper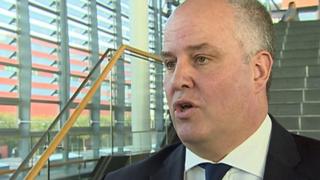 A leaked UK government document suggesting the UK economy will grow more slowly outside the EU should be treated "with a pinch of salt", Welsh Conservative leader Andrew RT Davies.
BuzzFeed News reports the analysis found growth over the next 15 years could be up to 8% lower.
But Mr Davies said "most forecasters can't even forecast six to twelve months in advance".
Labour and Plaid Cymru called on the government to publish the assessment.
The Welsh Tory leader said: "I do note that the report did not model any of the preferred options of the government of the bespoke deal.
"I do note that virtually every report that has come out since the referendum and before the referendum has been proved wrong.
"I could never, never, ever be as clever as some of the Oxford and Cambridge University dons that have put these papers together."
"But one thing I do know is that I live in the real world, and the real world does show that this economy is chugging along very nicely, thank you, against all the false predictions that were predicted 18 months ago," he added.
According to Buzzfeed, the leaked document suggests UK economic growth would be 8% lower than current forecasts if the country left the EU with no deal and reverted to World Trade Organisation rules.
It says growth would be 5% lower if Britain negotiated a free trade deal and 2% lower even if the UK were to continue to adhere to the rules of the single market.
All scenarios assume a new deal with the US.
Government sources point out that the document has not modelled the effect of a bespoke deal with the EU, which Mr RT Davies picked up on.
'Secrecy'
Stephen Doughty, Labour MP and supporter of the Open Britain campaign, said: "The government should end the secrecy in which this report is shrouded and publish it in full.
"In Wales 344,000 people work in manufacturing and retail, two of the sectors we now know are most at risk from taking a clobbering if we leave the EU.
"As new information about the risks and costs of Brexit comes to light, we all have the right to decide if it is the right choice for our country, our communities and our families."
Plaid Cymru's leader in Westminster, Liz Saville Roberts MP said: "These leaked assessments should have been made public from the beginning.
"They show why the two Westminster parties are wrong to pursue a hard Brexit and why maintaining our economic links with Europe is so important for people's standard of living."