M4 upgrade needs Tory votes, says Andrew RT Davies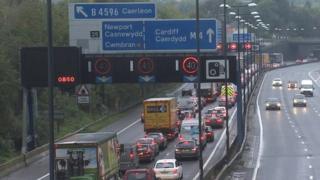 The Welsh Government needs Tory votes to get the M4 relief road built, the Welsh Conservative leader Andrew RT Davies has said.
Labour backbenchers in the Senedd are among those opposed to the project.
Mr Davies said if Welsh Government wanted the M4 to happen it would need to speak to the Tory group - saying the maths in the chamber meant his AMs may be needed.
An official has estimated costs could rise beyond £1.4bn with VAT.
In 2015 First Minister Carwyn Jones had said costs would be "way below" £1bn.
Mr Davies - who has called for an upper limit for the scheme - told a press conference he would not sign a "blank cheque" that could "bankrupt" the Welsh Government's budget for infrastructure.
But the Welsh Tory AM would not be pinned down on how much would be too much for the Conservatives in the Senedd.
Last week Mr Davies and Carwyn Jones clashed over costs. Mr Jones blamed delays, inflation and the UK government for the rise.
Mr Jones said: "I was bitterly disappointed that the first minister didn't choose to engage in FMQs last week because, if my arithmetic is right, he does need to look to the Conservative benches to get the votes to allow this project to go forward."
Mr Davies said it wasn't "unreasonable to think the eventual price tag for this project could reach £2bn".
He added: "If the first minister wants this project to happen, he's going to have to come to speak to us.
"Bring us in, talk to us about these numbers, talk to us about the confidence they have in these numbers, then we can talk about giving support."
Plaid Cymru is opposed to the Welsh Government's preferred option of a new motorway for the relief road, while UKIP group leader Neil Hamilton offered Labour support for the project two years ago.