Crisis in council services for looked-after children, AMs warned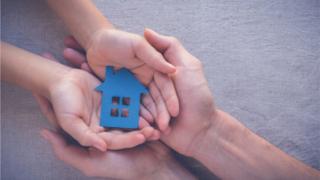 There is a crisis in caring for looked-after children in Wales, a senior social services official has warned.
Newport Council's Sally Jenkins said councils were struggling with a lack of residential care and foster carers.
Giving evidence to an assembly committee, she said the pressures were huge but that social workers were coping.
Another official said Caerphilly council was spending £16,500 a week on a placement for one child in London.
Ms Jenkins, the head of Children and Family Services at Newport Council, called the situation a "crisis".
She said: "This is a very difficult world in order to recruit foster carers currently and despite all the best initiatives, the support and the finance that we as local authorities can offer, there are not enough foster carers or people who want to be foster carers out there".
Ms Jenkins told public accounts committee that most councils were overspent on their looked-after children budgets, but there was no alternative: "You can't have a child just not having a placement so we don't have options in this".
Ms Jenkins described what she called the "Friday afternoon syndrome, when we've all reached a point where we've all thought we're not going to secure a placement for a child".
"There's almost an incipient sense of panic for many of us when you are looking down that barrel," she said.
"To date, we've all found ways around that, but that's a very very frightening place for social workers and heads of social services to be," she said.
Gareth Jenkins, assistant director for Children's Services at Caerphilly, said the council were currently paying £16,500 a week for a young person to be cared for in London.
He said they were now opening up their own secure residential unit and making a £5,000 a week saving: "We have been searching every day, every week, every month which is why we are opening our own unit in Caerphilly for that one young person.
"It's the the most extreme that I've come across in 30 years of social work but some of the numbers are creeping up to there".
Irfan Alam, assistant director children's services at Cardiff council told AMs that councils were routinely having to compete against each other in order to find placements for children.
He said: "We finally found a place in Essex for £11,500 a week for a child but by the time I rang the provider to find out why it cost so much, that place had already been snapped up within 15 minutes by another local authority, so it is routine".
"Some of our most complex young people cost on average some £6,500 a week", he added.
Lee Waters, a member of the committee, said AMs were told "there's a sea of children coming at stretched councils and there aren't any new people who want to become carers.
"As a result Councils are being held to ransom by some private providers. They don't think they're getting good value but they don't have a choice"