Tory LGBT group sorry over tweet to David Davies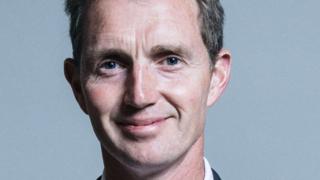 A Conservative LGBT group has apologised over a tweet which criticised a Welsh Tory MP's views on transgender rights.
LGBT+ Conservatives objected after the MP for Monmouth said someone with male genitalia is "definitely not a woman".
The group's Twitter account said David Davies's views were "abhorrent" and also appeared to imply a swear word in the same message.
Mr Davies called the language "appalling".
He said he would complain to the Conservative party chairman Brandon Lewis about the matter on Monday and had called for an investigation.
An outspoken critic of transgender rights, he waded into a Twitter conversation about the Labour Party's suspension of a member for posting a message that read: "Trans women are men."
"Somebody possessing a penis [and a] pair of testicles is definitely not a woman. This should be a biological fact not a matter for political debate," Mr Davies wrote.
The message prompted a reply from the LGBT+ Conservatives, which said: "David TC Davies' transphobic views are abhorrent and out of kilter with Conservative Party policy."
The tweet also included a phrase which implied an offensive term against Mr Davies - something he said was "abusive and misogynistic".
"You're an official Conservative group," he responded on Twitter. "We are against social media abuse. I'll be making official complaint to Brandon Lewis on Monday."
A later message sent by LGBT+ Conservatives said: "We would like to officially apologise to him for the tweet and any offence cause.
"We will continue to debate with him vigorously on #trans rights but in a mutually respectful way. The tweet has now been deleted."
Speaking to BBC Wales, Mr Davies said he wanted the "person who did this" to be "investigated".
"I don't think this is acceptable. This is a disciplinary matter," he added. "They have no right to abuse me in that fashion."
The Conservative Party has been asked to comment.