Defence jobs plea over £3bn vehicle contract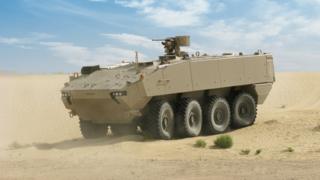 Thousands of jobs could be at risk if UK-based firms cannot bid for a £3bn contract to supply military vehicles, Wales' economy secretary said.
Ken Skates has written to Defence Procurement Minister Guto Bebb following reports that the order might be given directly to a German firm.
He said valleys-based General Dynamics UK was keen to bid and could deliver the vehicles more cheaply.
The Ministry of Defence said it was unable to comment at this time.
The British Army is looking to replace its Scimitar armoured vehicle, with reports that the Boxer made by Munich-based ARTEC could be chosen.
'Valuable' contract
In his letter, Mr Skates said he was "extremely concerned" to read such reports, claiming such a deal risked "putting thousands of British jobs at risk".
"I am aware of the Army's intention to upgrade its Mechanised Infantry Vehicle fleet and of the defence industry's concerns that the Ministry of Defence (MoD) might award the contract through a sole source procurement," he wrote.
Stating the case for General Dynamics UK and its Piranha vehicle, Mr Skates said: "We should be backing British industry to allow them to take positive investment decisions in the run up to the UK's exit from the European Union - and beyond.
"I would expect, therefore, the MoD to follow a normal procurement process for such a large and valuable contract with the potential to create and safeguard a number of high value jobs in the UK.
"I seek your assurance that this will happen."
The American-owned General Dynamics UK has plants at Oakdale in Caerphilly county and Merthyr Tydfil.
The MoD said it was unable to comment until Mr Bebb had had a chance to see the letter and reply.