Leisure centres could get NHS cash, says well-being commissioner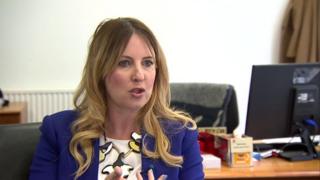 NHS funds could be used to keep leisure centres from closing, Wales' future generations commissioner has suggested.
Sophie Howe told BBC Wales it could save the health service money in the longer term by helping people stay fit.
Ms Howe said public bodies, such as councils and the NHS, were now required by law to think in an "integrated way" about the impact of their decisions.
She also said a "national conversation" was needed on whether tax increases were needed for health and social care.
Under a law passed in 2015 Ms Howe has a legal duty to advise on whether public policies or projects offer the best deal for future generations.
Speaking on BBC Radio Wales on Friday, she said: "The Future Generations Act requires all our public bodies now, so our health boards and our local authorities and our Natural Resources Wales and, indeed, the [Welsh] government themselves to be thinking in an integrated way about the impact of their decisions.
"For too long we've put health in the category of the health service [and] hospital spending and that's at the acute end, that's where things have actually already gone wrong."
Ms Howe told the Good Morning Wales programme: "What we need to be doing, and what the Future Generations Act requires, is all those public bodies coming together under something called a public services board - to be having exactly those sorts of conversations.
"So if, because of budget pressures, the local authority is thinking about closing leisure centres they should be having that discussion with other partners [and saying] 'who can help us?'
"That could actually mean that the health service transfers some of its budget to keeping the leisure centre open because in the long term that's probably going to save cost and demand to them when people are not keeping fit and are becoming unwell."
On the question of whether taxes should increase to help cope with rising pressures on the NHS and social care system, Ms Howe said: "I agree that there needs to be a national conversation about this.
"I think that most people understand the challenges that are facing the NHS, understand the challenges that are facing the care system, understand the challenges that are going to be even greater when we've got a greater number of older people and have worked out that somehow this needs to be paid for."
But Ms Howe said a new funding model was needed "which seeks to transform the system to a national health and wellbeing service, rather than continuing to fund a national illness service".