Jack Sargeant declines Alyn and Deeside by-election hustings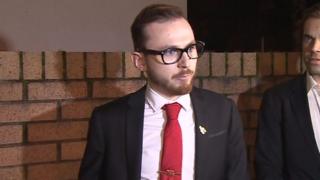 Welsh Labour candidate Jack Sargeant has declined to take part in a BBC Wales debate ahead of the Alyn and Deeside Welsh Assembly by-election.
Other candidates from Plaid Cymru, the Greens, the Liberal Democrats and the Welsh Conservatives have confirmed they will attend.
The by-election hustings will be be broadcast on Wales Live next Wednesday.
Mr Sargeant said his "absolute focus is on speaking directly to the people of Alyn and Deeside".
"I want nothing to distract our local campaign from this priority, and it's for this reason that I won't be taking part in hustings," he said.
"I believe the best way to do this is to spend my time getting out into the community and speaking to voters directly, rather than participating in choreographed events that all too often descend into the kind of partisan mudslinging that only serves to alienate voters," he added.
Carrie Harper for Plaid Cymru, Donna Lalek for the Welsh Liberal Democrats, Duncan Rees for the Wales Green Party and Sarah Atherton for the Welsh Conservatives are confirmed for the programme, which will be presented by Jason Mohammad and Bethan Rhys Roberts.
The by-election - triggered by the death of Jack Sargeant's father Carl - is taking place on 6 February.
Viewers who would like to take part in the hustings can email waleslive@bbc.co.uk.