Carl Sargeant leak inquiry finding questioned by Tories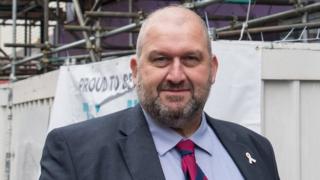 The Conservatives are demanding to know if First Minister Carwyn Jones authorised anyone to leak the news that Communities Secretary Carl Sargeant was to be sacked before he was told.
Mr Sargeant was found dead four days after he was dismissed amid allegations of inappropriate behaviour to women.
An inquiry found "no evidence of prior unauthorised sharing of information" about the reshuffle in November.
The Welsh Tories have called for the full inquiry report to be published.
The leak inquiry was one of three ordered following the sacking and subsequent death of the Alyn and Deeside AM, who is thought to have taken his own life.
Former minister Leighton Andrews had said he believed others had been told of his dismissal before it happened.
A spokesman for the Welsh Government's most senior civil servant - Permanent Secretary Dame Shan Morgan - said on Thursday: "This investigation has now finished and found that there is no evidence of prior unauthorised sharing of information by the Welsh Government relating to the recent Ministerial reshuffle."
The Conservatives said the statement "invites yet more speculation that someone within the First Minister's office was authorised to leak information about the Cabinet reshuffle".
'Satisfy concerns'
The party said its Welsh leader Andrew RT Davies had tabled an urgent questions asking First Minister Carwyn Jones to "reveal whether he, or someone acting on his authority, authorised leaking of details about his Cabinet reshuffle prior to November 3rd".
A spokesman for the Welsh Conservatives added: "To fully satisfy any concerns that remain over this investigation, the Permanent Secretary should release the report into the public domain, along with all the evidence which supported its conclusions, so that Assembly Members of all stripes can decide for themselves whether there's a case to answer for here.
"If a leak was sanctioned then we need to understand why and by whom. We have now submitted an urgent question on this matter."
The Welsh Government said it had nothing to add to the statement from the permanent secretary's spokesman.
However it referred to a Welsh Government statement issued last week, which said: "The first minister asked the permanent secretary to investigate whether details of the November ministerial reshuffle were leaked.
"It would be wholly inappropriate to disclose information contained in confidential statements provided by individuals as part of the inquiry."
Meanwhile a QC - Paul Bowen - will chair an inquiry into Mr Jones's handling of his dismissal of Mr Sargeant, while former Irish special prosecutor James Hamilton will consider claims that the first minister misled the assembly when answering questions about alleged bullying within the Welsh Government.