Brexit: 'Every effort' to agree bill's wording on devolved matters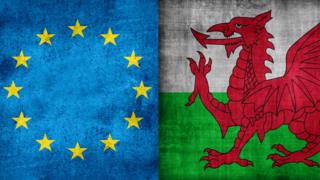 A UK minister has told the House of Lords that "every effort is being made" to reach a consensus with the Welsh Government over key Brexit legislation.
But Lord Duncan admitted that the right "form of words" on changes to the EU (Withdrawal) Bill had yet to be agreed.
He admitted time was "slipping gently away", as the bill goes to the Lords.
Welsh and Scottish ministers have accused the UK government of a "power grab" in a dispute over the return of powers from Brussels after Brexit.
The bill begins its passage through the House of Lords next week, with the UK government promising amendments to address concerns in Wales and Scotland about its impact on devolved matters such as farming and the environment.
Scotland Office Minister Lord Duncan told peers that the legislation as currently drafted "is not going to work".
He added: "It was not for want of effort on our part to try and secure the form of words which would allow the two devolved administrations and the UK government to reach a consensus on that particular point."
Lord Duncan, who was briefly a Wales Office Minister, said it was part of the "respect agenda".
He said: "We must find that form of words with those devolved administrations in order for us to secure progress go forward.
"As all have noted and accepted, if we do not secure that form of words then the legislative consent motion which we will need will not be made available.
"And then that slightly hackneyed phrase of a constitutional crisis indeed will be upon us."
The Lords will spend two days next week debating the general principles of the bill. Detailed line-by-line scrutiny will follow in February.