Theresa May misused NHS stats, Carwyn Jones claims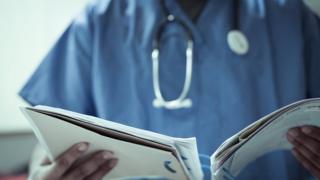 First Minister Carwyn Jones has written to the UK Statistics Authority alleging Theresa May made "misleading" NHS claims at Prime Minister's Questions.
He said a comparison of those waiting 12 hours or more at A&E in Wales and England was unfair as the figures are measured in different ways.
Mrs May has frequently criticised the Labour-run Welsh NHS when challenged about the health service in England.
Mr Jones said "selective misuse" of statistics prevented a "fair" debate.
When challenged by Labour leader Jeremy Corbyn about the NHS on Wednesday, Mrs May said the latest figures showed 497 people waiting more than 12 hours in A&E at hospitals in England compared to 3,741 in Wales.
In a letter to UK Statistics Authority chairman Sir David Norgrove, Mr Jones said it was "simply not a valid comparison".
"In England the figures referred to are based on those patients who have waited more than 12 hours from a decision to admit to admission to a ward, whilst the figures for Wales reflect the total time spent in accident and emergency departments," he wrote.
"The English figures will not include any of the time which the patient has spent in A&E prior to the decision to admit being taken."
The first minister added: "The selective misuse of statistics like this does not allow for a fair debate on the NHS."
Earlier in January, the authority told NHS England to explain why minor injury centres were now included in A&E data, which it said could result in "misleading conclusions" because they tended to treat patients more quickly than emergency units.
In September, Sir David said he was "disappointed" with Foreign Secretary Boris Johnson for reviving Vote Leave's EU referendum campaign pledge that Brexit could result in an extra £350m a week funding being given to the NHS.