Witnesses fear 'repercussions' over first minister probe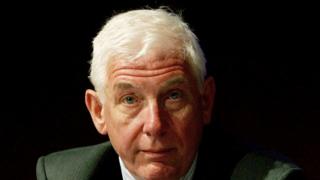 People are reluctant to give evidence to an inquiry into whether the first minister breached the ministerial code, BBC Wales has been told.
James Hamilton is examining whether Carwyn Jones broke rules by telling an AM in 2014 no bullying allegations had been made about special advisers.
Some people who feel they have relevant information have said they fear the repercussions of coming forward.
The Welsh Government said it was "vital all relevant evidence is provided".
The bullying claims emerged following the death of former Labour minister Carl Sargeant.
The deadline for the submission of written evidence is next Wednesday.
The BBC Wales Live programme spoke to people connected to the Welsh Government or Welsh Labour who said they had reservations about giving evidence.
'Nothing is anonymous'
One individual who used to work on the "fifth floor" - the government floor of the assembly building Ty Hywel in Cardiff Bay - does not want to give evidence for fear of recriminations.
"Wales is small, nothing is secret," the source said.
"I suspect people in government are actively scouting to find out who is submitting evidence. That fuels paranoia."
Another potential witness - a member of the Labour party in Wales - said: "I'm leaning towards giving evidence, but I am worried.
"If you put your head above the parapet within the party you make yourself a target.
"In these circumstances nothing is anonymous, people will know who said what.
"But I feel there is a responsibility to come forward."
Tamsin Stirling, who was a specialist policy adviser on housing to Carl Sargeant said she will give evidence but understands why others may not want to.
She said: "As soon as you start talking about details of dates or particular issues, particular events, it's quite easy to identify people and if folk are worried about being identified in terms of any repercussions or anything then I really understand that."
'Due separation'
Mr Jones commissioned Mr Hamilton, former senior prosecutor in the Republic of Ireland and independent advisor to the Scottish Government, in November.
It followed a row over whether Mr Jones misled the assembly when, on 11 November 2014, he told Conservative AM Darren Millar "no allegations had been made" regarding bullying by special advisers in the preceding three years.
On 14 November 2017 in the Senedd Mr Jones responded to questions from Welsh Conservative leader Andrew RT Davies by saying: "Any issues brought to my attention at that time were dealt with."
It is these responses Mr Hamilton will examine.
When the inquiry was announced, a spokesman for Welsh Government Permanent Secretary Shan Morgan said a secretariat had been created and made available to Mr Hamilton, "with appropriate safeguards to ensure due separation from the first minister's office and the rest of the Welsh Government in relation to this process and any material submitted".
The spokesman also stated "material related to the process will be stored independently of other Welsh Government internal systems".
Following Mr Sargeant's death, ex-cabinet minister Leighton Andrews claimed there was a "toxic", bullying culture in the Welsh Government.
And Mr Millar said in the assembly last December Mr Sargeant had told him he was a victim of bullying in government and had asked Mr Millar to submit the 2014 question that James Hamilton is examining.
Mr Jones has acknowledged there was "unhappiness" and "competing priorities" in the previous administration but said "no specific allegation of bullying was ever presented to me".
In December, Darren Millar asked Mr Jones if cabinet members who want to give evidence could "contribute without fear of reprisals" and collective responsibility would be waived.
Mr Jones replied: "All members can provide such evidence as they think they have. It's a matter ultimately, of course, for the adviser to decide how the process is then taken forward."
Welsh Conservative leader Andrew RT Davies said: "This is a hugely alarming report and one which raises further questions over the culture in Carwyn Jones's Welsh Government and the ability of this investigation to reach the truth."
A Welsh Government spokeswoman said: "As the first minister has repeatedly said, it is vital all relevant evidence is provided to the independent advisor, James Hamilton."
A spokesman for the permanent secretary said Mr Hamilton's work was "well underway" and that anyone with relevant evidence was invited to contact him no later than 31 January.
"Material related to the process will be stored independently of other Welsh Government internal systems," the spokesman added.