Carl Sargeant inquiry: family agree QC Paul Bowen for chairman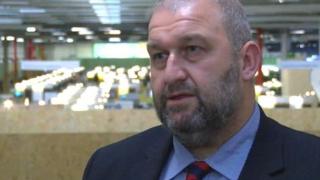 The family of Carl Sargeant have agreed the appointment of a QC to lead the independent inquiry into how first minister Carwyn Jones handled the former minister's sacking.
Mr Sargeant was found dead last November, days after the AM for Alyn and Deeside lost his cabinet level job.
A spokesperson for the family said it had agreed that Paul Bowen QC can chair the probe.
The Welsh Government confirmed that Mr Bowen has been appointed.
"The family hopes the inquiry can commence imminently and solicitors are working to agree terms of reference to allow this to happen," the spokesperson for Mr Sargeant's family said.
The former communities secretary had been referred to a Labour party investigation over claims of "unwanted attention, inappropriate touching or groping" when he was sacked.
Mr Jones ordered the inquiry into Mr Sargeant's death amid mounting pressure last year.
It is one of three that have been called since the events of last year, including an inquiry into whether the first minister misled the assembly when he said that no-one at the top of his government had complained about bullying.
According to his website, Paul Bowen practises "across the spectrum of public and administrative law, often with significant human rights, EU or other international law elements".
The family of Mr Sargeant had said that the former minister had not been "afforded common courtesy, decency or natural justice".
They had been among those that called for an independent inquiry, including north east Wales Labour MPs Mark Tami and Ian Lucas.