Alyn and Deeside by-election: Candidate profiles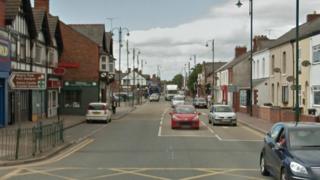 Voters will have the choice of five candidates when the Alyn and Deeside assembly by-election takes place on 6 February.
The poll was triggered by the death of the constituency's AM Carl Sargeant last year.
But who are the candidates and what issues are they campaigning on?
Here, the five people hoping to win election set out their stalls.
Plaid Cymru - Carrie Harper
Plaid Cymru's candidate is Wrexham councillor Carrie Harper, who serves the ward of Queensway and is on the council's lifelong learning, homes and environment and democratic services scrutiny committees.
"This is a by-election that we all wish wasn't needed and my first thoughts are with the family of Carl Sargeant," she said.
"Our campaign as a party will be to highlight the problems facing the NHS in Wales."
Welsh Conservatives - Sarah Atherton
Sarah Atherton lives in Gresford, near Wrexham. She serves on the village's community council as a councillor for Gresford West.
The Conservatives said jobs, housing and health were priorities for the former district nurse and social worker.
"I have spent many years working in health and have direct experience of some of the problems and frustrations patients - and staff - have to deal with on a daily basis," she said.
Wales Green Party - Duncan Rees
Duncan Rees previously worked for the Co-operative Group in Wales in its membership, PR and community team.
He said the Green party "has the ideas, the energy and the policies to provide an agenda for real change that other parties are not offering in Alyn and Deeside".
Mr Rees, who has lived in Wrexham for 23 years, is active in a range of voluntary organisations, including the support group for the Wrexham-Bidston railway line.
Welsh Labour - Jack Sargeant
Jack Sargeant is the son of Carl Sargeant - the former Welsh Government minister whose death last year triggered the by-election.
Mr Sargeant, 23, said he wanted to seek justice for his father - who was sacked by First Minister Carwyn Jones days before he died.
"I will be standing on a platform of being a powerful voice for local people - in the proud tradition of my father," he said.
Welsh Liberal Democrats - Donna Lalek
Former teacher and a qualified barrister, Donna Lalek is a community councillor from Broughton and a founder member of charitable and activist group Everyone Matters.
She said: "Our area is blessed with fantastic people and vibrant businesses and I'm passionate about giving them the investment, revitalised high streets and career opportunities they deserve.
"I'm excited to fight for the chance to represent this wonderful community in the assembly."