Welsh artists urge Theresa May to devolve broadcasting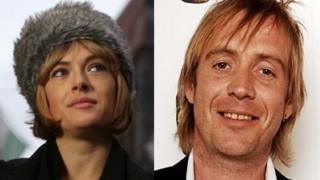 Movie star Rhys Ifans and singer Gwenno Saunders are among a string of Welsh artists and academics who are calling for broadcasting to be devolved.
A letter to Theresa May claims the system is "far too dependent" on the BBC, as others cut local programmes.
The situation was "not healthy for our local or Welsh democracy, nor for the flourishing of the Welsh language".
The UK government said it was right to retain responsibility for a sector with such economic and cultural importance.
Actress Sharon Morgan, musician Euros Childs of Gorky's Zygotic Mynci fame, ex-Plaid Cymru leader Lord Wigley and the children's poet of Wales Casia William were also among more than 40 prominent figures who signed the letter.
"We believe that we need many more opportunities for us in Wales as a nation, as a people, to speak to each other, to have discussions and to debate: discussions which are inclusive of the whole diversity of Welsh experience and placed in the context of our history as a nation," the letter said.
"At present, those opportunities are very limited because powers over broadcasting are retained by Westminster.
"There is a lack of media scrutiny of every level of government in Wales: the current system is failing and is far too dependent on one broadcaster.
"The present situation is not healthy for our local or Welsh democracy, nor for the flourishing of the Welsh language.
"We are concerned by the significant fall in the number of broadcasting hours from ITV Wales over the last twenty years, as well as the 36% cut to the budget of S4C since 2010 and the present uncertainty about its financial situation.
"Furthermore, we are concerned by the drop in local and Welsh language provision by commercial radio and the very fragile provision of local and Welsh language content by local television stations."
The letter also pointed out that the Silk Commission - set up by the UK Government to look at devolution for Wales - recommended in 2013 that responsibility for UK government funding for S4C be transferred to the Welsh Government.
"There is strong support among the public for this change, with a recent opinion poll showing that 65% of people in Wales support the devolution of broadcasting to the Senedd," the letter said.
"We call on you now to do the right thing for Wales and devolve powers over broadcasting to the National Assembly for Wales."
A spokesman for the Department for Digital, Culture, Media and Sport (DCMS) said: "Broadcasters make an enormous contribution to the UK's economic and cultural landscape, and it is right that the UK government retains responsibility for the sector.
"The Culture Secretary is now considering the recommendations of the independent S4C review and we will publish both the review and the government's response in due course."