Minimum alcohol price law cost us £1m, Asda claims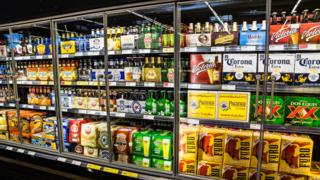 Wales' health secretary has said he takes "with a pinch of salt" a claim introducing a minimum price for alcohol will be costly for supermarkets.
Asda warned AMs that preparing its pricing systems for the change in Scotland had cost it more than £1m.
A minimum price per unit of alcohol is due to come in in Wales in summer 2019, but takes effect in Scotland in May.
Vaughan Gething said Asda changed prices "on a regular basis" and coped with adjustments to taxes on products.
The Scottish Government is expected to set a minimum price per unit of alcohol at 50p, to tackle excessive drinking, save lives and reduce hospital admissions.
Updated analysis, expected to be published in February, will help the Welsh Government decide its figure.
In written evidence to the assembly's health committee, Asda said: "There are significant costs for businesses in Wales - large and small - associated with the implementation of complex new systems to handle minimum pricing.
"As an indication of the scale of these costs, preparing our pricing systems for the implementation of minimum pricing in Scotland cost Asda more than £1m and took approximately three years."
Questioned by AMs on Thursday, Mr Gething said: "I would suggest that we should take with a pinch of salt a large retailer like Asda, or others, who are suggesting there will be an enormous cost to changing the price of a range of products.
"Asda themselves change prices on a regular basis - it's not difficult for them to do that in individual stores or across the country.
"Every time there is a budget and whoever is the government of the day changes taxation on products, by the next day they're able to manage that and to deal with it.
"And they don't ever say 'don't you dare change alcohol taxes on this particular day' and require us to do it within a period of time, [saying] 'it'll cost us far too much money'."
Asda has been asked to respond to Mr Gething's comments.