Welsh Labour struggles to find voice on committee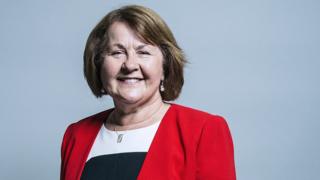 Meet the latest recruit to Westminster's Welsh affairs committee. Thelma Walker is Labour MP for Colne Valley, in West Yorkshire.
She succeeds Aberavon MP Stephen Kinnock on the committee, which has had a challenge filling its numbers since the general election.
Stephen Kinnock has been criticised on social media for leaving the committee. So why has he moved on? He said he had been a very active member of the Welsh affairs committee before the general election but now found himself on three committees.
He said: "If I could have remained on all three committees then would, but there aren't enough hours in the day & committee sessions often overlap. It is vital committees properly scrutinise and hold the government to account, and I wouldn't have been able to do a proper job on any of the committees if stayed on all three."
'Scrutiny'
Why has he not been replaced by a Welsh MP? "It's because so many of us are on the front bench," one Welsh Labour MP told me. And it's true that many Welsh Labour MPs (nine) are either frontbench spokespeople or opposition whips (four) so don't sit on select committees.
Others, like Stephen Kinnock, sit on other committees that are seen at Westminster as more attractive gigs than the Welsh affairs committee, which in the age of devolution is one of the less powerful scrutiny forums.
It is just possible that the travel and inquiry opportunities offered by the Foreign Affairs or Brexit committee offer more excitement than another fact-finding mission to the Severn Bridges.
Mrs Walker, a former headteacher, said: "I believe that my Yorkshire constituency and many Welsh constituencies face lots of the same issues. From farming and the impacts of Brexit, to issues with transport and broadband speeds.
"I will be a voice for Yorkshire, but also for communities in Wales who are equally affected by this government's austerity driven agenda.
"I would be more than happy to step aside if one of my Welsh Labour colleagues would like the opportunity to be on the committee, but in the mean-time I felt it was important the committee had full membership."
'Disappointing'
Plaid Cymru parliamentary leader Liz Saville Roberts said: "It is disappointing that the Labour Party, with 28 Welsh MPs, can't fill four seats on the Welsh affairs committee.
"Stephen Kinnock didn't turn up to a single meeting in this Parliament, so he has set a low bar for his successor. But to replace him with an MP from Yorkshire to serve on a committee dealing with the affairs of Wales is an insult to the people who voted for the Labour Party in the election.
"Serving on the Welsh affairs committee is a privilege and I find it surprising that not a single Labour MP from Wales felt able to take up the opportunity to represent their party and their country on the committee."
Welsh Labour has been asked to comment.