New UKIP AM after Nathan Gill resignation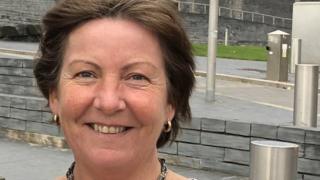 UKIP's Mandy Jones has been confirmed as the new AM for North Wales following the resignation of Nathan Gill.
Mrs Jones, from Denbighshire, was appointed as the UKIP replacement for the former leader of the party in Wales.
Mr Gill remains a UKIP MEP for Wales after standing down from the Senedd on Wednesday.
He had sat as an independent AM after leaving UKIP's assembly group following infighting in Cardiff Bay.
Mr Gill tweeted on Wednesday: "It's with great sadness and relief that I am resigning as AM for North Wales."
He was replaced as the leader of the party in Wales by Neil Hamilton following arguments over his dual role as an assembly member and a MEP.
He had faced mounting criticism from the six UKIP AMs and other political parties for his record of attendance in the assembly chamber.
Mrs Jones came third on the regional list for UKIP in the assembly elections in 2016, and automatically takes her former colleague's spot.
In an election address for the 2016 election, she told voters she had worked as a shepherd in north Wales for 30 years and was "well acquainted with farming and local community problems".
She added: "We, in north Wales expect to be treated as equals. UKIP need to be the Assembly, to fight those at the top, to make them listen and make them accountable.
"South Wales is booming, while north Wales crumbles."
The assembly's Presiding Officer Elin Jones said on Thursday she had been informed by the returning election officer for the North Wales regional seat that Mrs Jones was "able and willing to serve".
She will take on her new role when she is formally sworn in at a later date.