Carwyn Jones felt 'loss' but not 'guilt' over Carl Sargeant's death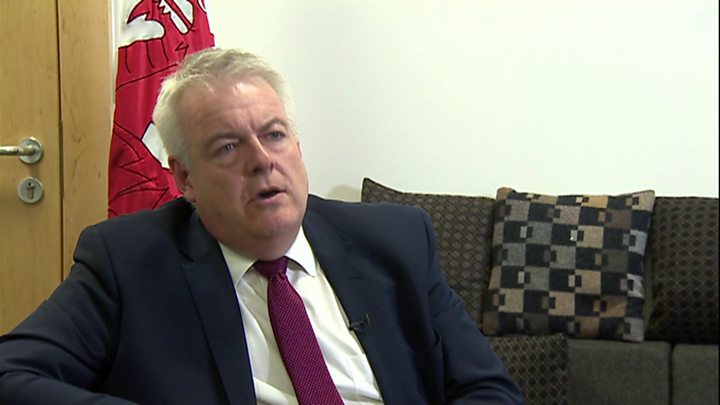 Carwyn Jones has said he could not have done anything differently over the allegations made against Carl Sargeant.
The AM was found dead days after the first minister sacked him from his ministerial job, following claims about Mr Sargeant's conduct.
In his first BBC Wales interview on the matter, Mr Jones said he felt "loss" but not guilt over what happened.
He said he could not have ignored the allegations, which he had referred to the Labour Party for investigation.
Meanwhile the first minister has accused his former colleague Leighton Andrews - who has made allegations of bullying within the Welsh Government in the wake of Mr Sargeant's death - of waging a "trial by Twitter".
Mr Jones said Mr Andrews had been known by the nickname "grumpy" in government.
The family of Mr Sargeant has alleged that Mr Sargeant was not given "natural justice", while the Welsh Government has ordered an inquiry into how Mr Jones handled the allegations against the AM.
An inquest into Mr Sargeant's death has given a provisional cause of death as hanging.
Mr Jones was asked if he had a sense of guilt after what happened. He replied: "Not guilt, loss.
"Carl was a good friend. I knew Carl for many many years, we never once argued.
"I'm confident that I did everything as I should have done," said Mr Jones.
"Could I have done something different? No.
"The only way I could have done it different would have been to have ignored the allegations."
Mr Jones said there was no suggestion that Mr Sargeant "was in a state that was vulnerable to do what he did".
He said he had to sack him from his ministerial job because "if you were a backbencher you would be suspended.
"Why treat someone differently, or more favourably, because they happen to be in cabinet?
"Everyone has to have the same due process. It is followed by every party in London, and Cardiff. It is followed by trades unions."
'Grumpy'
During the interview Mr Jones attacked ex-local government minister Leighton Andrews, who has said that the atmosphere in the Welsh Government was "toxic" in the last assembly term.
Mr Jones denied claims made by Mr Andrews on Twitter that he had raised an issue with the first minister about the code for special advisors being broken in 2014.
"He complained about lots of things, in fact his nickname was 'grumpy Leighton Andrews'," Mr Jones told BBC Wales.
"But it was small things. The title of a bill... In terms of serious complaints, written complaints, no."
The first minister said there had been "a dispute over the title of a bill, the Violence Against Women Bill, where he took one view and I took a different view".
"If that was what all this was about, for goodness sake, it was a minor row over a title of a bill," Mr Jones said.
"He did serve in the government mind from 2014 to 2016. It wasn't a problem for him then. So why is it suddenly a problem for him now?"
Mr Jones added: "There is a way of doing this properly and a way of not doing it properly.
"The way of not doing it properly is to fire off random tweets in the course of a day making random allegations - how on earth can we respond to that?
"Some kind of trial by Twitter is not a sensible way of doing it," said Mr Jones.
Earlier on Tuesday Mr Jones publicly denied in the Senedd that Mr Andrews had ever raised complaints with him about Welsh Government staff in 2014.
Mr Andrews said on Twitter that he would not have taken to the social network if Mr Jones had not said what he did in the Senedd chamber.
He added that Mr Jones's comment that he had complained about a lot of things and that his nickname was 'grumpy' was "pathetic".
Speaking to BBC Wales, Mr Andrews stood by his allegations, saying bullying had taken place.
He said that was "separate to the complaints that I made to the first minister which, contrary to what he told me at the time, he now appears to have done nothing about".
Analysis by BBC Wales political editor Nick Servini
I was expecting Carwyn Jones to bat away many of the questions by referring to the various inquiries now underway.
But instead a picture emerged of a first minister who has rationalised his actions with a sense that he had no choice other than to sack Carl Sargeant in the way that he did.
At one point he even told me the only way he could have done anything different was to ignore the allegations.
There will no doubt be difficult questions arising from the investigations, but Carwyn Jones at this point is not giving an inch.