Welsh Government 'sticking plaster' on health services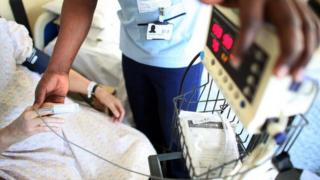 Sticking plasters are being put over problems in the health service by the Welsh Government, a senior AM has said.
Simon Thomas, chairman of the assembly's finance committee, said there was a gap between the Welsh Government's rhetoric and delivery.
The committee said prioritising spending on health did not seem to to be resulting in improved services or better financial planning.
The Welsh Government maintained it was investing in the health service.
The cross-party finance committee said increasing money available for the NHS comes at the expense of local government.
There will be an increase of £230m for the NHS in 2018-19 and a further £220 in 2019-20.
"The committee is concerned that health funding continues to form a growing proportion of the government budget, while evidence on the required scale of progress to transform services to prevent or reduce demand is lacking, particularly when considered against the cuts to local government," members said in a report.
It focuses on the Welsh Government's draft budget and will be debated in the Senedd on Tuesday.
The budget is likely to pass thanks to a deal between Labour and Plaid Cymru.
The committee also said there should be "clearer links" between the Welsh Government's plans and how it spends its money.
Mr Thomas, the Plaid Cymru AM for Mid and West Wales, said: "We need to ask how serious are ministers? In the NHS, they are putting sticking plaster over problems.
"They talk about prioritising things in strategic documents, but there is no mention of it when it comes to the budget."
His words come after the assembly's cross-party health committee warned on Monday that social care would reach "crisis point" unless there are big increases in funding or new ways of spending.
The Welsh Conservatives have criticised the budget, calling it "the latest in a long line of backroom deals between Plaid Cymru and the Welsh Labour Party".
'Honest and open'
Tory finance spokesman Nick Ramsay said Welsh Labour had failed to honour election pledges, such as scrapping tuition fees.
"With cuts to a range of areas in public life from education and rural affairs to local government and infrastructure, the Welsh Labour Party has once again failed to take any action on the issues within its control," he said.
"After nearly two decades in power and numerous budgets, the Welsh Labour government has failed to deliver increased prosperity for hardworking people and their families, and there's little reason to believe that this budget will be any different."
In response, a Welsh Government spokeswoman said: "Demand for NHS Services continue to grow year on year and we have been honest and open about the need for service change to meet the demands of a growing and aging population.
"This is why we are protecting frontline services and investing in the health service to drive forward reform with an extra £450m over two years in our budget proposals."