Carl Sargeant allegations inquiry needed for justice, says Leanne Wood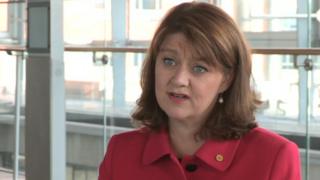 Plaid Cymru leader Leanne Wood has said allegations of misconduct by former Welsh Labour minister Carl Sargeant should still be investigated.
He was found dead four days after being sacked over accusations from a number of women of inappropriate behaviour.
Labour AM Mike Hedges has suggested an inquiry by the party could not continue because of his death.
But Ms Wood said: "We need to find justice for all of the people involved."
Before assembly members paid tribute to Mr Sargeant in the Senedd chamber on Tuesday, the Plaid leader told journalists she was glad there would be an independent inquiry into his dismissal by First Minister Carwyn Jones.
It would be "premature to make any comment about anyone's political future", she said, referring to calls for the first minister to resign over his handling of the matter.
Mr Sargeant was sacked from the cabinet and suspended from the Labour Party pending an inquiry into allegations classed as "unwanted attention, inappropriate touching or groping".
On Sunday, Mr Hedges told BBC Radio Wales that the party's investigation into the claims could not continue, because Mr Sargeant's death meant the available sanctions could not be carried out.
Asked whether she thought the complaints should still be investigated, Ms Wood said: "Yes, I do," adding: "I'm not quite sure exactly how that's done.
"One of the things that the events of this last week has thrown up is that procedures for dealing with all of this are maybe not as clear as we would like them to be," she said.
"But there definitely does need to be a way of ensuring that when people do come forward that their concerns are taken seriously and that they are afforded some level of justice as well.
"I think it's really important that we send a clear signal to all of those other people out there who haven't yet come forward and who may have experienced something in whatever walk of life are enabled and empowered to speak up about this.
"I've got a 12-year-old daughter, and I want her to come into a world where she's free of all of this stuff, and the only way that we are going to get to that point is if we are enabling people to come forward and speak up about it when it happens."
Ms Wood said that no party was "immune from these concerns".
She recently apologised to anyone in her own party who had made complaints, but who "didn't have appropriate or sufficient action taken".
Ms Wood said her party had complaints "in the system", but she was not in a position to talk about them.
She said Plaid Cymru had reviewed its reporting processes and was taking advice from the counselling charity New Pathways.
A meeting of all party leaders with the assembly's presiding officer to discuss harassment - postponed from last Tuesday following Mr Sargeant's death - has been rescheduled for Wednesday.