Arriva Trains Wales drops out of Welsh rail franchise bid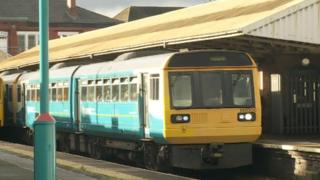 The firm that runs most of Wales' rail network has pulled out of the contest to continue running it from 2018.
Arriva has said Arriva Trains Wales was "no longer participating in the Wales and Borders competition", adding it had "not been an easy decision".
Transport for Wales said it was "not uncommon" for bidders for major projects to withdraw.
The Tories said Arriva's withdrawal "raises questions" about government engagement with the process.
An Arriva-owned company has run the franchise since 2003. There are three remaining bidders - Abellio, KeolisAmey and MTR.
Responsibility for the process of finding a company to run the services is set to be devolved from 2018.
Whoever is successful will run the rail network - apart from some inter-city services - and will launch a new integrated transport network, the South Wales Metro.
Arriva Trains Wales' parent company Arriva said it "had been proud" providing rail transport in Wales for almost 14 years.
"We will continue to work constructively with TfW to help make the next franchise a success and build upon the legacy that Arriva has built with Arriva Trains Wales," said an Arriva statement.
"We remain fully committed to delivering for our customers."
Tom Joyner, managing director of Arriva Trains Wales said: "We have been notified that Arriva Group have withdrawn from the bidding process for the next Wales and Borders franchise.
"Our key priority following this announcement is to continue to focus on the delivery of our services for the people and communities that depend on us for the remainder of the current franchise."
A spokeswoman for Transport for Wales said: "Arriva Rail Wales have notified Transport for Wales that they intend to withdraw from the bidding process for the next Wales and Borders rail franchise.
"It is not uncommon for bidders for major projects to withdraw during the tender process and Arriva have been clear they have done this for their own commercial reasons.
"The procurement process is a tough and demanding one and we recognise Arriva's extensive work to date.
"With final tenders due later this year, we have three companies with world-class credentials each putting their own, distinct cases for how they will deliver the ambitious objectives we set, with the goal of delivering a step change in rail services for passengers across Wales and the Borders."
Conservative AM Andrew RT Davies, opposition leader in the Welsh assembly, said Arriva's tender withdrawal "raises serious questions over the Welsh Government's engagement with the tender process".
"We need absolute confidence from the Cabinet Secretary that he and his team are handling the tender process correctly... and that in the ensuing transition period rail users will not see a deterioration in service." he said in a statement.
He continued: "I will be seeking to learn the exact date as to when Transport for Wales were first informed of Arriva's withdrawal.
"The timing of the Cabinet Secretary's announcement falls on a suspiciously auspicious period for the Welsh Government, who have developed a habit for burying bad news during recess."
Wrexham MP Ian Lucas said "few tears will be shed" after Arriva Trains Wales withdrew from the bid process, adding on Twitter: "We need an imaginative, progressive franchise holder to take forward a N Wales Metro."