Brexit: Jones 'opposed to free trade deals with poorer countries'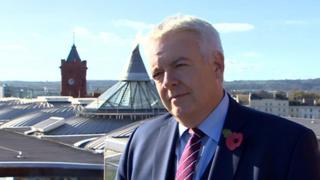 Britain should not make free trade deals post-Brexit with countries that have smaller incomes, the first minister has said.
Carwyn Jones spoke after meeting international trade secretary Liam Fox on Friday.
Mr Jones said free trade deals should not undermine Wales' farming sector or allow cheap steel into the UK.
Dr Fox told BBC Wales the UK needed to get a share of growing international markets.
The UK government minister is seeking to forge new trade deals with countries outside of the EU post-Brexit.
Many on the leave side of the EU referendum argued that Britain would be better off if it was able to negotiate trade deals outside of the EU - something the UK currently cannot do as a member.
Mr Jones said: "What we can't do is have free trade deals that deliver cheaper goods in Britain but end up with us exporting jobs to somewhere else.
"If you do a free trade deal with a country with a much lower level of income or a much lower level of wage rates than you, you invite companies to move jobs into that country.
"We saw it to an extent with the accession of the European countries 17, 18 years ago."
He pointed to Mexico, which he described as having an "economic boom", because a lot of American jobs have moved there because people are paid less.
That's not the sort of free trade agreement that we need," Mr Jones added.
"Fine, have a free trade agreement but its got to be with a country which is pretty much level pegging with you in terms of income."
He said he would never support a deal that allowed cheaper steel into the UK or undermined farmers' produce.
Dr Fox and Welsh Secretary Alun Cairns spoke to people from the dairy industry to discuss future trade opportunities at a meeting on Friday.
"We want to see a fully open and comprehensive agreement with the European Union because that's in the interests of European consumers and British consumers," he said.
"The trade agreement we have with the European Union is very different from most agreements. In most trade negotiations we would be a distance apart and trying to reduce it and get to a new status quo. In the European Union we already have zero tariffs and 100% regulatory equivalence. The only things that can happen is that we stay the same or we move slightly apart.
"We don't want to move apart."
He added: "We want to see greater trade liberalisation, we want to see global trade growing because its been very slow in recent years, and we need to get a share of those growing markets."