May keeping cards close to her chest on Brexit, says Jones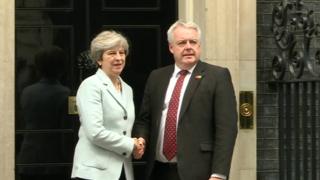 Prime Minister Theresa May is keeping her cards "close to her chest" on Brexit, First Minister Carwyn Jones has said following talks in Downing Street.
Mr Jones wants the UK to maintain access to the EU single market after Brexit but Mrs May has said the UK cannot remain in the economic union.
However he said there was progress over the EU Withdrawal Bill dispute.
Mrs May's deputy Damian Green claimed talk of a power-grab was "now behind us" after earlier talks on the law.
But both the Welsh and Scottish governments still believe the legislation, which proposes to transfer EU laws on to the UK statute book, would result in powers being taken away from the devolved administrations.
It is understood Downing Street approached the Welsh Government to arrange Monday's meeting, which Welsh Secretary Alun Cairns also attended.
"Progress is now being made in making sure there is agreement as to the way forward, not imposition. But that progress needs to continue. We're not in a position yet to support the bill," Mr Jones told BBC Wales.
"The bill needs to change so the warm words that we hear are reflected on the face of the bill, and that means making sure that powers meant to come to Wales do come to Wales."
Asked whether he has seen any movement from Mrs May on single market participation, Mr Jones added: "She's keeping her cards very close to her chest, I think.
"To my mind we don't need to leave the customs union.
"Nobody argued in the Brexit referendum that we should have a situation that is more difficult for our businesses to sell in their biggest market.
"We need to make sure the UK government avoids that scenario which will be a nightmare for us."
Mr Cairns said: "I'm optimistic that the Welsh government will be able to respond to the new powers that they'll get, but also that we'll have a common framework around the UK that will work for business and for stakeholders and for investors."
A No 10 spokesperson said Mrs May and Mr Jones "spoke about constructive dialogue at the recent Joint Ministerial Committee and the progress made on working together to establish principles on common frameworks."
"They also discussed the EU Withdrawal Bill and the PM made clear that we are working to ensure that as powers are repatriated from Brussels back to Britain, the right powers are passed to the devolved administrations of Scotland, Wales and Northern Ireland in a way that works for all parts of the UK," the spokesperson added.
The prime minister has consistently said the UK "cannot possibly" remain within the single market, as staying in it would mean "not leaving the EU at all".
One of the Welsh and Scottish governments' objections to the EU Withdrawal Bill is that EU powers over issues such as farming and fisheries, which fall into areas of policy that are devolved to Cardiff Bay and Holyrood, should transfer to Westminster in the first place.
The bill will next be debated in the House of Commons on 14 November.
In his meeting with Mrs May, the first minister also raised the issue of sexual harassment in politics following a string of allegations about MPs.