Wales vacant land tax levy idea 'creating uncertainty'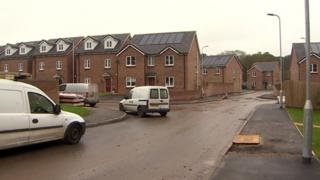 A lack of detail over a potential new Welsh tax on vacant development land could discourage larger developers from investing in Wales, house builders have warned.
A "vacant land tax" could be used to address the issue of "land-banking" - where developers and house builders speculatively accumulate plots.
It is one of four tax ideas being considered by ministers in Cardiff.
The Welsh Government said it will develop the ideas in the coming months.
About 7,000 new homes are being built every year in Wales yet 12,000 more are needed to tackle under supply.
But developers told BBC Sunday Politics Wales the proposal, made in the Welsh Government budget earlier in October, was creating uncertainty in the industry.
Andrew Whitaker, from the House Builders Federation (HBF), said: "With a national house builder you've obviously got competition between investing your money in Wales and investing your money in England.
"If it's easier to build houses in England and get a return on your money, then people are going to make those choices."
Earlier this month, Finance Secretary Mark Drakeford announced £340m to support the building of 20,000 affordable homes - a target that could be undermined by any new tax, according to the HBF.
Ifan Glyn, director of the Federation of Master Builders, Cymru, has welcomed a Welsh Government focus on boosting the supply of new homes but is not convinced by the vacant land tax.
"My fear is, rather than disincentivising the large house builders, this will just put another barrier in place to small house builders who have been just decimated over the last two decades," he said.
Analysis two years ago suggested that across the UK there are 600,000 plots of land that are not being developed that could be.
"We definitely do not land bank in Wales," said Mr Whitaker. "If a site isn't being built on after it has received a full implementable planning permission then something has gone wrong."
Under the plans, one of four taxes will be put forward to the UK government, Parliament and the assembly for approval.
A Welsh Government spokeswoman said: "The idea for a vacant land tax was one of four to be shortlisted for further work after the finance secretary asked the public for ideas to test the Wales Act 2014 mechanism for proposing new taxes.
"We will develop and refine all four ideas further over the coming months, working closely with stakeholders."
Sunday Politics is on BBC One Wales on Sunday, 29 October at 11:00 GMT