Schools' cash rise half what ministers claim, says WLGA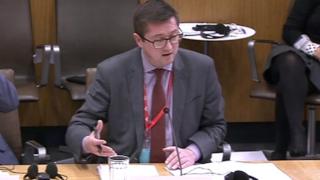 Council leaders estimate an increase in schools' funding will be around half that stated by the Welsh Government.
Senior Welsh Local Government Association (WLGA) figures called for clarity when they appeared before AMs.
The 2018-19 draft budget states an additional £62m is being provided for education, and £42m for social care.
But the WLGA's Jon Rae said the figure for education was £35m, according to its own calculations. The Welsh Government is standing by its figures.
Mr Rae told the assembly's local government committee: "That is a lot less than the £62m. How has the £62m been calculated?
"We were saying that, as a WLGA, the pressure on education services is £64m so if we do have an additional £62m we should not really be complaining about it, but the sums show it is not really there."
The Welsh Government has also said there will be an extra £42m for social care but the WLGA says its own figures estimate the real figure is likely to be £21m.
Anthony Hunt, leader of Torfaen Council and WLGA finance spokesman, also objected to the description of extra money when he appeared in front of the assembly's local government committee.
"It is part of the pot and the pot is decreasing," he said.
"We all want to safeguard education and social services but it does raise my eyebrows when it is described as extra money because where is the extra money? We have got less cash."
A Welsh Government spokesman said it was providing an extra £170m for schools and £115m for social services over the next two years.