Port Talbot prison: Petition against Baglan plan presented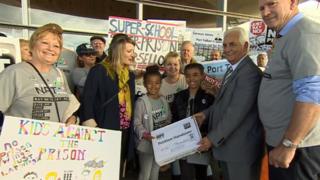 Campaigners against plans for a new prison in Port Talbot have presented a petition signed by nearly 9,000 people to the Welsh Assembly.
David Rees, Labour AM for Aberavon, said the site in Baglan was "wholly inappropriate" for a jail.
Opponents have urged the Welsh Government not to release the land to the Ministry of Justice.
A Welsh Government spokeswoman said no decision on the future of the site had been made.
Plans for the new Category C prison to house 1,600 inmates in Baglan have faced local opposition since they were first announced in March.
It has also emerged the publicly-owned site proposed may be subject to restrictions limiting its use to an industrial park.
Helping present the petition on Wednesday, Mr Rees said: "It has been obvious since we knew where the site was that this location is wholly inappropriate for a new prison.
"I have called on many occasions for the Welsh Government not to sell the land to the Ministry of Justice and instead use it for improving the economy of our town.
"Today's message to the Welsh Government from the people of Port Talbot is quite clear - when the Ministry of Justice asks to buy or lease the land, just say no."
Bethan Jenkins, Plaid Cymru AM for South Wales West, added: "It's very clear that this prison isn't wanted by the community.
"They do not want, and Wales does not need, a prison of this magnitude in the heart of Wales' premier industrial area.
"The Labour Welsh Government must start to think higher of Wales and show some ambition for our communities, rather than try to palm off things like a new prison as economic investment."
A Prison Service spokeswoman said: "There will be an investment of £1.3bn to modernise the prison estate.
"In Wales alone this will potentially create up to 500 jobs and contribute £11m a year to the regional economy.
"Our proposals will replace older prisons with high-quality, modern establishments, and we will continue to work closely with the local community as plans develop."