Tories accuse Plaid Cymru of 'doublespeak' on tourism tax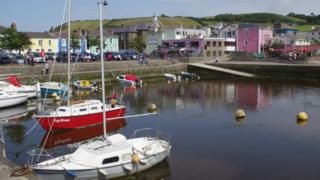 Plaid Cymru has said it cannot support a tax on tourism in Wales - two weeks after its economy spokesman said it should be explored.
AM Steffan Lewis said it would be an "additional burden" when the sector needed to be more competitive - calling for a cut in VAT on tourism instead.
The Conservatives - who say a tourism tax would be "devastating" - accused Plaid of "Orwellian doublespeak".
It is one of four potential new taxes for Wales being considered.
A tourism tax could mean a small charge per night for visitors staying in accommodation.
Welsh ministers have said they will decide which new tax they want to support early next year.
It would then be up to the UK government, the House of Commons and the Lords to approve the new levy.
Mr Lewis said: "In the current context, putting an additional burden when our tourism sector needs to be more competitive is not something Plaid Cymru can support at this time."
"Tourism is the lifeblood of the economy in many parts of Wales.
"In an increasingly globalised, competitive world, we need every advantage to sell Wales as a tourist destination.
"Plaid Cymru believes that a cut to VAT on tourism-related services could provide a huge boost to the Welsh economy."
Mr Lewis said the tourism tax proposal was "an idea put forward by the Welsh Labour Government" - welcoming instead a proposal for a tax on disposable plastics.
Both were options presented in the Welsh budget for 2018-19.
Earlier in October, Plaid's economy spokesman Adam Price told the Senedd: "In terms of the tourism levy, I think this is an idea that deserves to be explored.
"It is used widely throughout most economies - many of them have bigger tourism sectors than us and they use it to invest intelligently in the skills and infrastructure necessary to have a successful tourism economy," he said.
'Misleading'
A spokesman for the Welsh Conservatives said: "This is Orwellian doublespeak from Plaid Cymru, whose own economy spokesman - Adam Price - claimed the idea as his own two weeks ago."
"Either Steffan Lewis is deliberately misleading the public with these comments, or he has opened up very serious questions over who speaks for Plaid on tourism," he added.
But Plaid Cymru rejected claims by the Tories that Mr Price had "made the case for a tax on tourism" - saying the comments the party was using to justify this point "were being taken out of context".
A spokeswoman said Mr Price would be writing to Welsh Conservative leader Andrew RT Davies "asking him to desist from peddling this misinformation any further, no doubt deliberately".
"It is damaging to democracy for dishonest politics to become the norm as has sadly become the case on the other side of the Atlantic," she added.