Tourism tax could be devastating, warn industry figures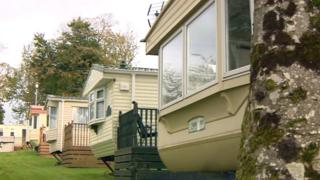 A Welsh tourism tax could have a "devastating effect" on businesses and deter visitors from coming to Wales, according to some in the industry.
Welsh ministers will decide in 2018 whether to ask UK ministers if they can introduce such a tax, one of four potential new taxes being considered.
It could mean a small per night charge for visitors staying in accommodation.
But businesses and industry bodies have warned the tax would undermine work encouraging people to visit Wales.
Ministers said they would decide which new tax they want early next year.
Grondre Holiday Park, near Clynderwen on the Carmarthenshire and Pembrokeshire border, is one of seven holiday parks owned by Vale Holiday Parks in Wales, a family business based in Aberystwyth.
Thomas Scarrott, who own the park with his family, told the BBC's Sunday Politics Wales programme a tourism tax would raise the cost of holidays.
"They would definitely pay more money - if it [tourism tax] comes to Wales then it would have devastating effects, not just on the tourism industry, but on other businesses that rely on the tourism industry, pubs, shops, cafes, visitor attractions.
"All of these would see an adverse knock-on effect," he said.
Mr Scarrott called ministers' proposals "vague".
"We would have expected some sort of consultation on the matter - but let's be clear the Welsh Government do a fantastic job promoting tourism in Wales," he said.
He praised Visit Wales' Year of Legends campaign and "commended" tourism promotion in Wales, but said a tourism tax could "undo all of that good work".
"We would see fewer visitors, it's as simple as that, and more burden in terms of administration," he added.
According to Pembrokeshire Tourism, which promotes the industry locally, tourists bring almost £600m a year to the county - but there are concerns a tourism tax could cut that income.
"I think undoubtedly it will stop some people coming to Pembrokeshire on holiday if a tax is introduced," said Dennis O'Connor from the body.
"If there is no tourist tax across the border in England, then it is going to be more attractive to them without a shadow of a doubt.
"Quite why Wales is putting its hands up and saying we possibly want to be the first [to introduce a tourism tax] is beyond comprehension, to be honest.
"It risks the valuable economy we have, which is worth about £5bn. The Welsh Government should be doing everything possible to encourage growth and not stifle it," said Mr O'Connor.
A Welsh Government spokesman said the power to propose new taxes was "important" and could be used to deliver "improvements for our communities".
"We are keen to achieve a balanced view as we test our new powers and over the coming months will develop and refine all four ideas further," they added.
"We will then propose one new Welsh tax to the UK government early next year and consult extensively after a decision has been made."
Sunday Politics Wales is on BBC One Wales on 15 October at 11:00 BST