Betsi Cadwaladr NHS deficit could double, report warns board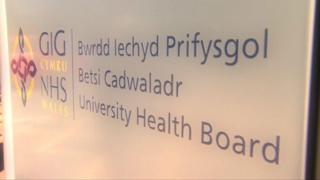 A budget deficit at Wales' biggest health board could double without "significant intervention", a report has warned.
Betsi Cadwaladr in north Wales, already under Welsh Government supervision, had planned to overspend by £26m, but a report said the total could top £50m.
Bosses said they were "doing all we can" to deliver services and cut costs.
Local government leaders have criticised extra NHS funding while they have had to cut services.
Betsi Cadwaladr overspent by £20m in 2015/16 and £30m in 2016/17.
It agreed to budget for a deficit of £26m in 2017/18.
But a report for the board said the overspending would more than double "without significant intervention through the delivery of mitigating actions".
The report went on to say that while the forecast deficit remained £26m, "this represents a significant challenge and will require the delivery of the full savings target set by the board".
The reasons for the overspend include the cost of agency nurses and emergency care.
The board said the planned deficit involved significant savings and was £4m less than the overspend for 2016/17.
Director of operational finance Huw Thomas said: "We are taking significant action in relation to known areas of pressure, both to deliver short-term savings and better value services in the longer term.
"We are doing all we can to both deliver high quality services and meet our financial targets."
Council leaders have expressed concern at financial bailouts given to health boards after they were given a 0.5% financial settlement next year, and told to expect further cuts the year after.
Debbie Wilcox, leader of Newport council and of the Welsh Local Government Association said the health service could learn about reforming finances from councils that have already made significant cuts.
In March, the Welsh Government refused to bail out four out of Wales' seven health boards which had seen their overall deficits triple.
As well as Betsi Cadwaladr, there were overspends at Cardiff and Vale, Abertawe Bro Morgannwg (ABMU) and Hywel Dda in the last financial year.
Cardiff and Vale University Health Board has a planned deficit of £31m, which includes savings of £35m.
Alex Howells, interim chief executive officer of ABMU, told the assembly's health committee on Wednesday: "We are facing an overspend position this year of no more than £36m and we are hoping to bring it down from that if at all possible.
"One of the key drivers affecting our position at the moment is our workforce costs and the cost of our current workforce model."
Hywel Dda University Health Board is forecast to have a £59m deficit in 2017/18, which still means that £32m of savings are needed to take account of cost pressures.