Damian Green 'hopes' AMs back EU Withdrawal Bill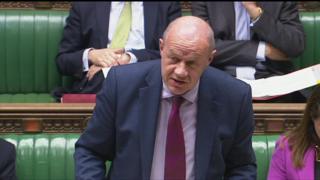 Theresa May's deputy has told MPs he hopes AMs will back the UK government's Brexit plans - but says ministers are preparing for "all eventualities".
First Secretary of State Damian Green said he hoped talks with devolved governments would enable AMs to grant legislative consent to the bill transferring EU law into UK law.
First Minister Carwyn Jones calls the bill a Westminster "power grab".
He has asked AMs to withhold consent from the bill in its current form.
That would be unlikely to derail the EU (Withdrawal) Bill but would cause a constitutional row .
Speaking in the House of Commons, Mr Green, who is meeting Mr Jones later, defended the way the UK government consults ministers in Cardiff and Edinburgh.
He said there was "a full programme of engagement".
He said the UK government's position papers go to the devolved administrations before they are published.
Mr Green was challenged by Plaid Cymru MP Ben Lake over preparations for no deal being reached in negotiations with the EU:
"Could you detail the preparations your government has made for a scenario in which the EU (Withdrawal) Bill fails to gain the legislative consent of the devolved parliaments?"
Mr Green told him: "The government is preparing for all eventualities. It would be the only responsible thing for a government to do.
"That's what we're doing and of course the House will be having a considerable amount of time in committee stage coming up shortly to debate the Withdrawal Bill and I hope, partly through the reinstitution of the joint ministerial committee, to make sure the LCM [legislative consent motion] will be granted."
The joint ministerial committee brings together ministers from the UK and devolved governments.
Mr Green's comments came as ex-Brexit minister and Clwyd West MP David Jones urged the chancellor to set aside billions of pounds to prepare for no deal on Brexit.