Welsh-language school plans need shake-up, minister says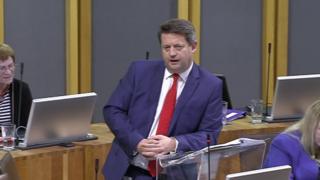 The planning of Welsh-medium education needs to be "adapted and modernised", the Welsh language minister has said.
Alun Davies' comments came as he responded to a review of local authorities' Welsh-medium education strategies.
Mr Davies also said he accepted "urgent" action was needed to increase the number of teachers trained to teach through the medium of Welsh.
He said he would not approve plans from councils that "do not show ambition".
Local authorities in Wales are required to prepare and present Welsh in Education Strategic Plans (WESPs) to be considered by the Welsh government.
These plans must include targets and clear steps to be taken to develop Welsh-medium education in the council area.
Earlier this year Mr Davies said some councils' plans for the 2017-2020 period lacked ambition and he had asked the former assembly member Aled Roberts to conduct a review.
In his report, Mr Roberts concluded "major changes" were required to the planning of Welsh-medium education.
In a statement to AMs on Tuesday, Mr Davies said: "We must now adapt and modernise the way we plan Welsh-medium education to reflect our Cymraeg2050 ambition, acknowledging that education is a key catalyst for change".
He said he accepts all the recommendations made in Aled Roberts' report, including:
Strengthening the strategic relationship between local authorities and Mudiad Meithrin, which provides early-years Welsh-medium education
Simplifying the process of linguistic categorisation for schools
Urgent planning and action to increase the number of teachers trained to teach through the medium of Welsh
He added that government officials had been working with local authorities to reform their Strategic Plans and he expected the new versions to be resubmitted soon.