Black people far more likely to be arrested, racial disparity audit shows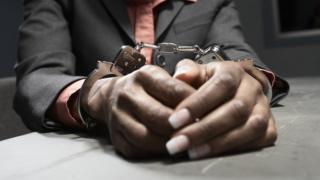 Black people in Wales are far more likely to be arrested than any other ethnicity, according to a UK government audit of racial disparities.
In Dyfed-Powys Police's force area, black people are nearly seven times more likely to be arrested than white.
In North Wales it is four times more likely, and about three times more likely in Gwent and in South Wales.
Theresa May has urged public bodies to "explain or change" any variations in the way they treat different races.
The new website, collating facts and figures about non-devolved public services, shows unemployment for black, Asian and minority ethnic people at nearly double that of white Britons, and disparity in who owns their own home.
Figures for North Wales Police showed another disparity in that white people were twice as likely to be arrested as those from an Asian background. Elsewhere in Wales the arrest rates for the two groups were similar.
'Open and transparent'
Responding for Gwent Police, Chief Superintendent Mark Warrender said: "The majority of our stop and searches are conducted in busy areas with a greater black and ethnic minority population (BAME).
"We want the communities we serve to be confident in the way that we use our stop and search powers, and we recognise the need to continually monitor our stop and search activity.
"We regularly scrutinise our stop and search data, comparing volume and outcomes for BAME and white stops, as well as inviting community members to assist in scrutinising bodyworn video footage and written reports of stop and search encounters."
South Wales Assistant Chief Constable Jeremy Vaughan said the information was "really important to us because it helps us scrutinise what is working well and where improvements need to be made".
"We work closely with stakeholders, including community cohesion groups, to ensure we are as open and as transparent as possible about the methods of our policing," he said.
"We analyse our data so as to ensure that we do not discriminate against any ethnicity and so that we can respond to any concerns raised by minority groups."
'Shambles'
Meanwhile First Minister Carwyn Jones has denied Conservative claims that the Welsh Government had refused - like the Scottish Government - to take part in the audit.
Tory AM Angela Burns asked during First Minister's Questions why Wales had refused to release full sets of data to the survey team, saying it would help identify areas of poverty among minority groups who could then be helped.
Mr Jones blamed the UK government for the audit team's failure to include data from Wales after a year's worth of discussions, saying they asked at a late stage for Welsh officials to do the work.
"I think we have engaged properly and perhaps it shows the shambles at the heart of the UK government that they cannot tell Wales and Scotland apart," he said.
A UK government spokesman said: "The Race Disparity Audit gives unprecedented insight into how people from different ethnic backgrounds are treated in society, including their access to healthcare, education, employment and in the criminal justice system.
"The audit covers all public services administered by the UK government in Wales. We are working with the devolved administrations and plan to include more data over time."